Shell Wear Research Vehicle for Geneva
29th August 1958
Page 30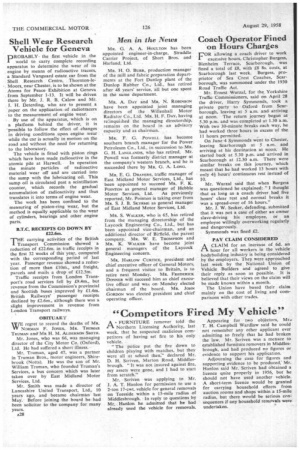 Page 30, 29th August 1958 —
Shell Wear Research Vehicle for Geneva
Close
• PROBABLYthe first vehicle in the
world to carry complete recording apparatus to determine the wear of its engine by means of radioactive tracers, a Standard Vanguard estate car from the Shell. Research Centre, Thornton-le. Moors, near Chester, is to be shown at the Atoms for Peace Exhibition at Geneva from September 1-13. It will be driven there by Mr. J. R. B. Calow and Mr. . F. H. Deterding, who are to .present a 'paper on the application of radiotracers to the measurement of engine wear.
. By use of the apparatus, which is on a platform behind the driver, it is possible to follow the effect of changes in driving conditions upon engine wear while the car is actually in motion on the road and without the need for returning to the laboratory.
The vehicle is fitted with piston rings which have been made radioactive in the atomic pile at Harwell. In operation the minute particles of radioactive material wear off and are carried into the sump with the lubricating oil. This sump oil is circulated past a scintillation counter, which records the gradual accumulation of radioactivity and thus translates it into terms of engine wear.
The work has been confined to the measuring of piston-ring wear, but the method is equally applicable to the wear of cylinders, bearings and other engine parts.
B.T.C. RECEIPTS CO DOWN BY £22.6m.
THE carrying activities of the British Transport Commission showed a reduction of £22.6m. in traffic receipts in the first 32 weeks of this year, compared with the corresponding period of last year. Passenger revenue showed a reduction of more than £10m., and freight, parcels and mails a drop of £12.5m.
Traffic receipts from London Transport's road services fell by £9.4m., but revenue from the Commission's provincial and Scottish buses improved by £1.4m. British Railways' passenger receipts declined by £2.6m., although there was a slight improvement in revenue from London Transport railways.
OBITUARY
WE regret to record the deaths of MR. YV NORMAN F. JONES, MR. THOMAS TRUMAN and' MR H. M. ALDERSON SMITH, Mr. Jones, who was 66, was managing director of the City Motor Co. (Oxford), Ltd. He had suffered a short illness.
Mr. Truman, aged 47, was a partner in Truman Bros., 'motor engineers, Shirebrook (Notts). He was the son of Mr. William Truman, who founded Truman's Services, a bus concern which was later taken over by East Midland Motor Services, Ltd.
Mr. Smith was made a director of Lancashire United Transport, Ltd., 10 years ago, and became chairman last May. Before joining the board he had been solicitor to the company for many years.
A28
Men in the News
MR. G. A. A. HOULTON has been appointed engineer-in-charge, Straddle Carrier Project, of Short Bros. and Harland, Ltd.
MR, H. 0. BURR, production manager of the mill and fabric preparation departments at the Fort Dunlop plant of the Dunlop Rubber Co.; Ltd., has retired after 48 years' service, all but one spent in the same department.
MR. A. DAY and MR. N. ROBINSON have been appointed joint managing directors of the Willenhall Motor Radiator Co., Ltd. MR. H. F. DAY, having re:inquished the managing directorship, remains on the board in an advisory capacity and as chainnan.
MR. F. G. POWEU. has become southern branch manager for the Power Petroleum Co., Ltd., in succession to MR. G. H. LANGLANDS, who has retired. Mr. Powell was formerly district manager at the company's western branch, and he is succeeded there by Ma. G. A. LONG.
MR. E. G. DRAVERS, traffic manager of East Midland Motor Services, Ltd., has been appointed to succeed MR. F. K. PoirsrroN as general manager of Hebble Motor Services, Ltd. As previously reported, Mr. Pointon is taking over from MR. S. J. B. SKYRME as general manager of East Midland Motor Services, Ltd.
MR. S. WALKER, who is 65, has retired from the managing directorship of the Laycock Engineering Co., Ltd., but has been appointed vice-chairman, and an additional director of Birfield, the parent company. MR. W. E. THOMPSON and MR. K. WALKER have become joint general managers of the Layeock Engineering concern.
MR. HARLOW CURTICE, president and chief executive officer of General Motors, and a frequent visitor to Britain, is to retire next Monday. MR. FREDERICK DONNER will succeed him as chief executive officer and was on Monday elected chairman of the board. MR. JOHN GORDON was elected president and chief operating officer.
Coach Operator Fined 'on Hours Charges
FOR allowing a coach driver to work i excessive hours, Christopher Burgess, Blenheim Terrace, Scarborough, was fined a total of £8, with £8 8s. costs, at Scarborough last week. Burgess, proprietor of Sea Crest Coaches, Scarborough, was summoned under the 1930 Road Traffic Act.
Mr. Ernest Wurzal, for they Yorkshire Traffic Commissioners, said on April 28 the driver, Harry Symmonds, took a private party to Oxford from Scarborough, leaving at 5 a.m. and arriving at noon. The return journey began at 5.30 p.m. and was completed at L30 a.m. With two 30-minute breaks each way, he had worked three hours in excess of the 11 hours permitted.
On June 4 Symmonds went to Chester, leaving Scarborough at 5 a.m. and arriving at his destination at noon. He started back at 5.30 p.m. and arrived in Scarborough at 12.30 a.m. There were similar breaks on this journey, which meant that he had worked 13 hours with only 41 hours' continuous rest instead of 10.
Mr. Wurzal said that when Burgess was questioned he explained: "1 thought that as long as a coach driver had five hours' clear rest and .normal breaks it was a spread-over of 16 hours."
Mr. J. W. Seeker, defending, submitted that it was not a case of either an owner slave-driving his employee, or an employee willingly overworking regularly and dangerously.
Symmonds was fined £2.
PAY CLAIM CONSIDERED
CIA CLAIM for an increase of 6d. an hour for all workers in the vehicle bodybuilding industry is being considered by the employers. They were approached last week by the National Union of Vehicle Builders and agreed to give their reply as soon as possible. It is believed that their views on the claim will be made known within a month.
The Union have based their claim mainly on the cost of living and comparisons with other trades.
Tags
People
:
W. E. THOMPSON
,
Christopher Burgess
,
Ernest Wurzal
,
JOHN GORDON
,
F. H. Deterding
,
G. H. LANGLANDS
,
HARLOW CURTICE
,
S. WALKER
,
N. ROBINSON
,
FREDERICK DONNER
,
Harry Symmonds
,
H. M. ALDERSON SMITH
,
A. DAY
,
William Truman
,
NORMAN F. JONES
,
THOMAS TRUMAN
,
Powell
,
J. W. Seeker
,
F. G. POWEU
,
A. A. HOULTON
,
YV NORMAN
,
K. WALKER
,
Pointon
,
H. F. DAY