Seamarks Appeal for Brighton Service
29th August 1958
Page 29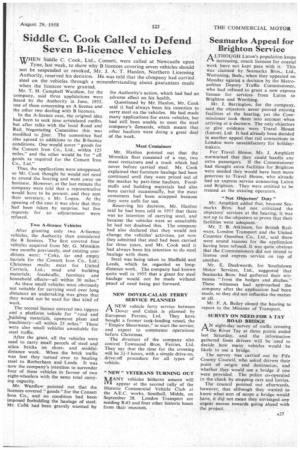 Page 29, 29th August 1958 —
Seamarks Appeal for Brighton Service
Close
A LTHOUGH Luton's population keeps rls increasing, coach licences for coastal work have not kept pace with it. This was claimed by Seamarks Bros., Ltd., Westoning, Beds., when they appealed on Monday against a decision by the Metropolitan Deputy Traffic Commissioner, who had refused to grant a new express licence for services from Luton to Brighton and Worthing.
Mr. J. Barrington, for the company, said the objectors never proved existing facilities at the hearing, yet the Commissioner took them into account when arriving at a decision. The only objectors to give evidence were Travel House (Luton), Ltd. It had already been decided in another appeal that rail connections in London were unsatisfactory for holidaymakers.
For Travel House, Mr. J. Amphlett maintained that they could handle any extra passengers. If the Commissioner had thought extra facilities for Brighton were needed they would have been more generous to Travel House, who already had an express service connecting Luton and Brighton. They were entitled to be treated as the existing operators.
"Not Objectors' Duty" Mr. Amphlett added that, because Seamarks Bros. had not criticized the objectors' services at the hearing, it was not up to the objectors to prove that their facilities were adequate.
Mr. T. B. Atkinson, for British Rail' ways, London Transport and the United Counties Omnibus Co., Ltd., said there were sound reasons for the application having been refused. It was quite obvious that the Commissioners did not intend to license on express service on top of another.
Mr. E. Duckworth, for Southdown Motor Services, Ltd., suggested that Seamarks Bros. had gathered their witnesses "from the hedges and ditches." These witnesses had approached the company after the application had been made, so they did not influence the matter at all.
Mr. F. A. Bailey closed the hearing to report to the Minister of Transport.
SURVEY ON NEED FOR A TAY ROAD BRIDGE
A N eight-day survey of traffic crossing the River Tay at three points ended last Saturday, and the information gathered from drivers will be used to decide how many vehicles would be likely to use a bridge.
The survey was carried out by Fife County Council, who asked drivers their point of origin and destination, and whether they would use a bridge if one were provided. The police co-operated in the check by stopping cars and lorries.
The council pointed out afterwards, however, that although they wanted to know what sort of scope a bridge would have, it dicl not mean they envisaged any urgent moves towards going ahead with the project.