Co-operative Society Get Stern Warning
29th August 1958
Page 28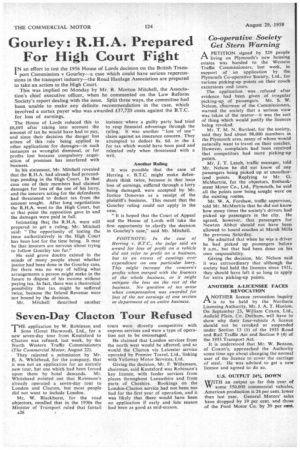 Page 28, 29th August 1958 —
Co-operative Society Get Stern Warning
Close
APETITION signed by 529 people living on Plymouth's new housing estates was handed to the Western Traffic Commissioners, last week, in support of an application by the Plymouth Co-operative Society, Ltd., for various picking-up points on their coach excursions and tours.
The application • was refused after evidence had been given of irregular Picking-up of passengers. Mr. S. W. Nelson, cfiairman of the Commissioners, warned the society that a serious view was taken of the matter—it was the sort of thing which would justify the licences being revoked_ Mr. T. M. N. Bartleet, for the society, said they had about 98,000 members in the Plymouth area, many of whom would naturally want to travel on their coaches. However, complaints had been received that competitors had more picking-up points.
Mr. J. T. Leach, traffic manager, told Mr. Nelson he did not know of any passengers being picked up at unauthorized points. Replying to Mr. G. McMurtrie, for the objectors, Embankment Motor Co., Ltd., Plymouth, he said all the points now being sought were on the existing routes.
Mr. W. A. Forshaw, traffic supervisor, told Mr. McMurtrie that he did not know how many times the society's drivers had picked up passengers in the city. Ile agreed, however, that passengers for Newton Abbot should not have been allowed to board coaches at Marsh Mills the previous Saturday.
He admitted that when he was a driver he had picked up passengers before 9 a.m., but that had been done on his own responsibility.
Giving the decision, Mr. Nelson said it was extraordinary that although the society had held the licences since 1931, they should have left it so long to apply for extra picking-up points.
ANOTHER A-LICENSEE FACES REVOCATION
A NOTHER licence revocation inquiry tA is to be held by the Northern Licensing Authority, Mr. J. A. T. Hanlon. On September 23, William Coxon, Ltd., Anfield PIain, Co. Durham, will have to show why their four-vehicle A licence should not be revoked or suspended under Section 13 (1) of the 1933 Road and Rail Traffic Act and Section 9 (4) of the 1953 Transport Act.
It is understood that Mr. W. Benson, of Coxon's, approached the Authority some time ago about changing the normal user of the licence to cover the carriage of steel. He was advised to get a new licence and agreed to do so.
U.S. OUTPUT 24% DOWN WITH an output so far this year of IT some 550,000 commercial vehicles, American production is 24 per cent, lower than last year. General Motors' sales have dropped by 19 per cent. and those of the Ford Motor Co. by 39 per cent.