Rivals or Allies?
29th August 1958
Page 26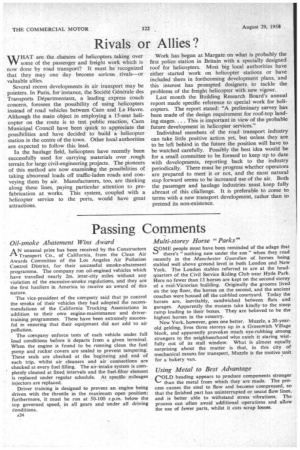 Page 26, 29th August 1958 —
Rivals or Allies?
Close
WHAT are the chances of helicopters taking over some of the passenger and freight work which is now done by road transport? It must be recognized that they may one day become serious rivals—or valuable allies.
Several recent developments in air transport may be pointers. In Paris, for instance, the Societe Generale des Transports Departmentaux, a leading express coach concern, foresees the possibility of using helicopters instead of road vehicles between Caen and Le Havre. Although the main object in employing a 15-seat helicopter on the route is to test public reaction, Caen Municipal Council have been quick to appreciate the possibilities and have decided to build a helicopter station in the centre of the town. Other local authorities are expected to follow this lead.
In the haulage field, helicopters have recently been successfully used for carrying materials over rough terrain for large civil-engineering projects. The pioneers of this method are now examining the possibilities of taking abnormal loads off traffic-laden roads and conveying them by air. Manufacturers, too, are thinking along these lines, paying particular attention to prefabrication at works. This system, coupled with a helicopter service to the ports, would have great attractions. Work has begun at Margate on what is probably the first police station in Britain with a specially designed roof for helicopters. Most big local authorities have either started work on helicopter stations or have included them in forthcoming development plans, and this interest has prompted designers to tackle the problems of the freight helicopter with new vigour.
Last month the Building Research Board's annual report made specific reference to special work for helicopters. The report stated: "A preliminary survey has been made of the design requirement for roof-top landing stages.. . . This is important in view of the probable future development in helicopter services."
Individual members of the road transport industry can take little positive action yet, but unless they are to be left behind in the future the position will have to be watched carefully. Possibly the best idea would be for a small committee to be formed to keep up to date with developments, reporting back to the industry periodically. There must be progress whether operators are prepared to meet it or not, and the most natural step forward seems to be increased use of the air. Both the passenger and haulage industries must keep fully abreast of this challenge. It is preferable to come to terms with a new transport development, rather than to pretend its non-existence.