All-round Attack
29th August 1958
Page 25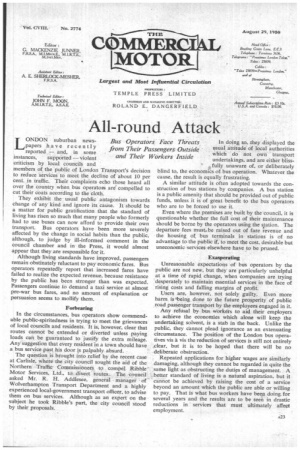 Page 25, 29th August 1958 —
All-round Attack
Close
Bus Operators Face Threats from Their Passengers Outside and Their Workers inside
LONDON suburban newspapers have recently reported and, in some instances, supported -violent criticism by local councils and members of the public of London Transport's decision to reduce services to meet the decline of about 10 per cent. in traffic. Their complaints echo those heard all over the country when bus operatops are' compelled to cut their coats according to the cloth.
They exhibit the usual public antagonism towards change of any kind and ignore its cause. It should be a matter for public gratification that the standard of living has risen so much that many people who formerly had to use buses can now afford to provide their own transport. Bus operators have been more severely affected by the change in social habits than the public, although, to judge by ill-informed comment in the council chamber and in the Press, it would almost appear that they are responsible for it.
Although living standards have improved, passengers remain obstinately reluctant to pay economic fares. Bus operators repeatedly report that increased fares have failed to realize the expected revenue, because resistance by the public has been stronger than was expected. Passengers continue to demand a taxi service at almost pre-war bus fares, and no amount of explanation or persuasion seems to mollify them.
Forbearing In the circumstances, bus operators show commendable public-spiritedness in trying to meet the grievances of local councils and residents. It is, however, clear that routes cannot be extended or diverted unless paying loads can be guaranteed to justify the extra mileage. Any suggestion that every resident in a town should have a bus service past his door is palpably absurd.
The question is brought into relief by the recent case at Carlisle, where the city council sought the aid of the Northern Traffic Conamissioners to compel. •Ribble Motor Services, Ltd, to divert routes. The council asked Mr. R. H. Addlesee, general manager of Wolverhampton Transport Department and a highly experienced local-government transport officer, to advise them on bus services. Although as an expert on the subject he took Ribble's part, the city council stood by their proposals. In doing so, they displayed the usual attitude of local authorities which do not own transport undertakings, and are either blissfully unaware of, or deliberately blind to, the economics of bus operation. Whatever the cause, the result is equally frustrating.
A similar attitude is often adopted towards the construction of bus stations by companies. A bus station is a public amenity that should be provided out of public funds, unless it is of great benefit to the bus operators who are to be forced to use it.
Even where the premises are built by the council, it is questionable whether the full cost of their maintenance should be borne by the operators using the station. The departure fees must. be raised out of fare revenue and the housing of bus terminals in stations is of no advantage to the public if, to meet the cost, desirable but uneconomic -services elsewhere have to be pruned.
Exasperating Unreasonable expectations of bus operators by the public are not new, but they are particularly unhelpful at a time of rapid change, when companies are trying desperately to maintain essential services in the face of rising costs and falling margins of profit.
Users are, however, not solely guilty. Even more harm is "being dope to the future prosperity of public road passenger transport by the employees engaged in it.
Any refusal by bus workers to aid their employers to achieve the economies which alone will keep the undertaking solvent, is a stab in the back. Unlike the public:, they cannot plead ignorance as an extenuating circumstance. The position of the London bus operatives vis a vis the reduction of services is still not entirely .clear, but it is to be hoped that there will be no .deliberate obstruction.
, Repeated applications for higher wages are similarly _damaging, although they cannot be regarded in quite the same light as obstructing the duties of management. A better standard of living is a natural aspiration, but it cannot be achieved by raising the cost of a service beyond an amount which the public are able or willing to. pay. That is what bus workers have been doing, for several years and the results are to be seen in drastic reductions in services that must ultimately affect employment.