"No Harm from B.R.S. Sales"
28th October 1955
Page 48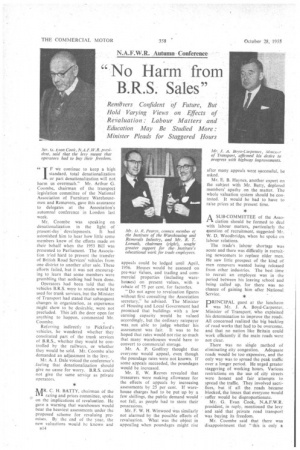 Page 49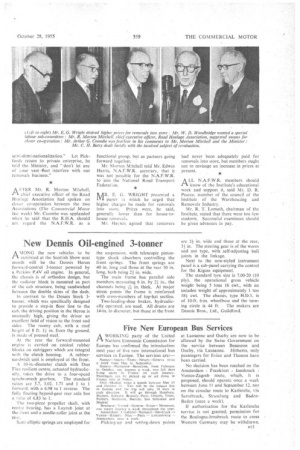 Page 48, 28th October 1955 —
"No Harm from B.R.S. Sales"
Close
Keywords :
I
6 6 F we continue to keep a high
standard, total denationalization • or part denationalization will not harm us overmuch." Mr. Arthur G. Coombe, chairman of the transport legislation committee of the National Association of Furniture Warehousemen and Removers, gave this assurance to delegates at the Association's autumnal conference in London last week.
Mr. Coombe was speaking on denationalization in the light of
present-day ' developments. It had astonished him to hear how little some members knew of the efforts made on their behalf When the 1953 Bill was presented to Parliament. The Association tried hard to prevent the transfer of British Road Services' vehicles from one district to another after sale. These efforts failed, but it was not encouraging to learn that some members were grumbling that nothing had been done.
Operators had been told that the vehicles B.R.S. were to retain would be used for trunk services, but the Minister of Transport had stated that subsequent changes in organization, as experience might show to be desirable, were not precluded. This i'eft the door open for anything to happen, commented Mr.
Coombe. •
Referring indirectly to Pickford's vehicles, he wondered whether they constituted part of the trunk services of B.R.S., whether they would be controlled by the raihvays, Of whether they would be sold. Mr. Coombe also demanded an adjustment in the levy.
Mr. A. J. Dale voiced the conference's feeling that denationalization should give no cause for worry. B.R.S. could not give the same servicf as private operators.
MR. C. H. BATTY, chairman of the rating and prices committee, spoke on the implications of revaluation. He gave a warning that warehouses would bear the heaviest assessments under the proposed scherhe for revaluing premises. By the end of the year, the new valuations would he known and
B14
appeals could be lodged until April, 1956. Houses would be assessed on pre-war values, and trading and commercial properties (including warehouses) on present values, with a rebate of 75 per cent, for factories.
"Do not agree to revaluation figures without first consulting the Association secretary," he advised. The Minister of Housing and Local Government had promised that buildings with a low earning capacity would be valued accordingly, but the ordinary ratepayer was, not able to judge whether his assessment was fair. It was to be hoped that rates would not rise so much that many warehouses would have to convert to commercial storage.
Mr. A. P. Godfrey thought that everyone would appeal, even though the poundage rates were not known. If some appeals succeeded, the poundages would be increased.
Mr. E. W. Reeves revealed that treasurers were making allowance for the effects of appeals by increasing assessments by 25 per cent. If warehouse charges had to be put up by a few shillings, the public demand would not fall, as people had to store their possessions, Mr. F. W. H. Winwood was similarly not alarmed by the possible effects of revaluation, What was the object in appealing when poundages might rise after many appeals were successful, he asked.
Mr. E. B. Haynes, another expert on the subject with Mr. Batty, deplored members' apathy on the matter. The whole valuation system should be contested. It would be bad to have to raise prices at the present time.
A SUB-COMMITTEE of the AssotA ciation should be formed to deal with labour matters, particularly the question of recruitment, suggested -Mr. W. D. Woodbridge% when he spoke on labour relations.
The trade's labour shortage was acute and there was difficulty in recruiting newcomers to replace older men. He saw little prospect of the kind of men removers wanted being released from other industries. The best time to recruit an employee was in the period between his leaving school and being called up, for there was no chance of gaining him after National Service.
PRINCIPAL guest at the luncheon was Mr. J. A. Boyd-Carpenter, Minister of Transport, who explained his determination to improve the roadS.. All concerned realized the big backlog of road works that had to be overcome, and that no nation like Britain could work efficiently if the main roads were not clear.
There was no single method of eliminating city congestion. Adequate roads would be too expensive, and the only way was to spread the peak traffic over a longer period. He urged greater staggering of working hours. Various restrictions on the use of city streets were honest and fair attempts to spread the traffic. They involved sacrifices, but if all the roads became blocked, the losses that everyone would suffer would be disproportionate.
Mr.. G. Evan Cook, N.A.F.W.R. president, in reply, mentioned the levy and said that private road transport was buying its freedom.
Mr. Coombe said that there was disappointment that "this is only a semi-demi-nationalization." Let Pick fords return to private enterprise, he told the Minister, and "don't let any of our vast feet interfere with our removals business."
A 1: IER Mr. R. Morton Mitchell, I-1 chief executive officer of the Road Haulage Association had spoken on closer co-operation between the two Associations (The Commercial Motor last week) Mr. Coombe was applauded when he said that the R.H.A. should not regard the N.A.F.W.R. as a
functional group, but as partners going forward together.
Mr. Morton Mitchell told Mr. Edwin Harris, N.A.F.W.R. secretary. that it was not possible for the N.A.F.W,R. to join the National Road Transport Federation,
N/IR. E. G. WRIGHT presented a IV' paper in which he urged that higher charges be made for removals into store. Prices were, he said, generall, lower than for house-tohouse removals.
Mr. Haynes agreed that removers had never been adequately paid for removals into store, but members ought not to envisage an increase in prices at • present.
A LL N.A.F.W.R. members should P-1. know of the Institute's educational work and support it, said Mr. D. R. Pearce, member of the council of the Institute of the Warehousing and Removals Industry.
Mr. R. T. Lornath, chairman of the Institute, stated that there were too few students. Successful examinees should be given advances in pay.
Tags
People
:
W. D. Woodbridge
,
Arthur G. Coombe
,
A. P. Godfrey
,
Morton Mitchell
,
C. H. BATTY
,
J. A. Boyd-Carpenter
,
E. B. Haynes
,
Edwin Harris
,
E. W. Reeves
,
R. Morton Mitchell
,
G. Evan Cook
,
R. T. Lornath
,
D. R. Pearce