New Dennis Oil-engined 3-tonner
28th October 1955
Page 49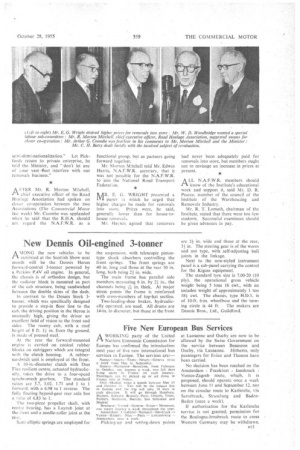 Page 49, 28th October 1955 —
New Dennis Oil-engined 3-tonner
Close
AMONG the new vehicles to be exhibited at the Scottish Show next month will be the Dennis Heron forward-control 3-tonner powered by a Perkins PAV oil engine. In general, the chassis is of orthodox design, but the radiator block is mounted as part of the cab structure, being sandwiched between the double skins of the dash.
In contrast to the Dennis Stork 3tonner, which was specifically designed to provide a step-in floor line to the cab, the driving position in the Heron is unusually high, giving the driver an excellent field of vision to the front and sides. The roomy cab, with a roof height of 8 ft. n. in. from the ground, is made of pressed steel.
At the rear the forward-mounted engine is carried on conical rubber blocks on outriggers which are integral
with the clutch housing. A rubbersandwich unit is employed at the front.
A 10-in.-diameter clutch with Don Flex resilient centre, actuated hydraulically, takes the drive to a four-speed synchromesh gearbox. The standard ratios are 5.7, 3.02, 1.71 and 1 to I forward, with a 6.98 to I reverse. The fully floating hypoid-gear rear axle has a ratio of 6.83 to 1.
The two-piece propeller shaft, with centre bearing, has a Layrub joint at the front and a needle-roller joint at the rear.
Semi-elliptic springs are employed for
the suspension, with telescopic pistontype shock absorbers controlling the front springs. The front springs are 40 in. long and thOse at the rear 50 in. long, both being 21 in. wide.
The main frame has parallel side members measuring 6 in. by 21 in., the channels being in. thick. At major stress points the frame is reinforced with cross-members of top-hat sectfon.
Two-leading-shoe brakes, hydraulically operated, are used. All drums are 14-in, in diameter, but those at the front are 21 in. wide and those at the rear, 31 in. The steering gear is of the worm and nut type, with self-adjusting bail joints in the linkage.
Next to the new-styled instrument panel is a sub-panel carrying the control for the Kigass equipment.
The standard tyre size is 7.00-20 (10 ply), the operational gross vehicle weight being 5 tons 16 cwt.,. with an unladen weight of approximately 1 ton 181 cwt. The chassis, type H.D.1, is of 10-ft. 6-in, wheelbase and the turn ing circle is 44 ft. The makers are Dennis Bros., Ltd., Guildford.