Five New European Bus Services
28th October 1955
Page 49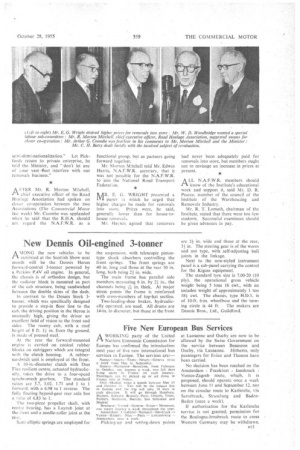 Page 49, 28th October 1955 —
Five New European Bus Services
Close
AWORKING party of the United Nations Economic Commission for Europe has confirmed the introduction next year of five new international bus services in Europe. The services are:—
Nantes—Angers—Tours—Never5----Gencva twice a week from May to September.
Geneva—Pernignan—Parcelena, from February to October. onc journey a week, two fall days being spent in Trance on eaeh journey. Passengers can be picked up Or set down in France only at Nimcs, Oslo—Madrid. twice a month between May it and October 31. This will be the longcst hOc in Europe and :he trip will take 10 days in each direction. It will go through Hamburg, Bremen, Antwern, Brumels, Paris, Orleans, Tours, Poitiers, Bordeaux, Biarritz, San Sebastian and Madrid.
Boni ogno—Vecoul—Geneva—Evian— Montreux, one return journey .a week throutlhout the year.
Amsterdam--1vankfort--Stuttiorr—Innsbruck — VeMee—Ranallo Nice — Paris — Luxemhnurg -Amsterdam. oda: a week.
Picking-up and setting-down points at Lausanne and 'Duchy are now to be allowed by the Swiss Government on the service between Besancon and Ouchy, via Lausanne. Hitherto, only passengers for Evian and Thonon have been carried.
No decision has been reached on the Amsterdam Frankfort Innsbruck Venice-Zagreb route, which, it is proposed, should operate once a week between June 11 and September 12, nor on the circular route to Karlsruhe, via Sarrebruck, Strassburg and BadenBaden (once a week).
If authorization for the Karlsruhe service is not granted, permission for the Boulogne-Innsbruck route to cross Western Germany may be withdrawn.