Haulage Now America's No. 3 Industry
28th October 1955
Page 45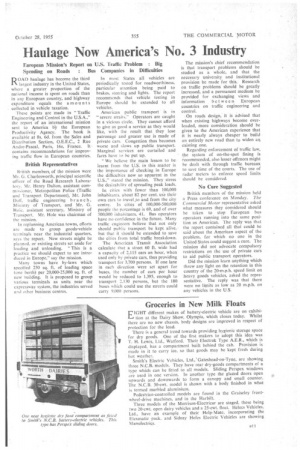 Page 45, 28th October 1955 —
Haulage Now America's No. 3 Industry
Close
European Mission's Report on U.S. Traffic Problem : Big Spending on Roads : Bus Companies in Difficulties D OAD haulage has become the third
largest industry in the United States, where a greater proportion of the national income is spent on roads than in any European country, and highway expenditure equals the amounts collected in vehicle taxation.
These points arc made in "Traffic Engineering and Control in the U.S.A.," the report of an international mission sent to America br the European Productivity Agency. The book is available at 8s. 6d. from the Sales and Distribution Section, 0.E.E.C., 2 Rue Andre-Pascal, Paris, 16e, France. It contains recommendations for improving traffic flow in European countries.
British Representatives
British members of the mission were Mr. G. Charlesworth, principal scientific officer of the Road Research Laboratory. Mr. Henry Dalton, assistant commissioner, Metropolitan Police (Traffic and Transport Department), Mr. John Duff, traffic engineering branch, Ministry of Transport, and Mr. G. Hole, assistant secretary, Ministry of Transport. Mr. Hole was chairman of the mission.
In replanning American towns, efforts are made to• group goods-vehicle terminals near the industrial quarters, says the report. New streets might be planned: or existing streets set aside for loading and unloading. "This is a practice we should expect to see introduced in Europe," say the mission.
Many towns have by-laws which specified 250 sq. ft. of loading space (one berth) per 20,000-25,000 sq. ft. of new building. It is proposed to group various terminals as units near the expressway system, the industries served and other business centres.
In most States all vehicles are periodically tested for roadworthiness, particular attention being paid to brakes, steering and lights. The report recommends that vehicle testing in Europe should be extended to all vehicles,
American public transport is in "severe straits." Operators are caught in a vicious circle. They cannot afford to give as good a service as they would like, with the result that they lose patronage and greater use is made of private cars. Congestion thus becomes worse and slows up public transport. Marginal services are curtailed and fares have to be put up.
"We believe the main lesson to be learnt from the U.S. in this matter is the importance of checking in Europe the difficulties now so apparent in the U.S.," stated the mission. They stress the desirability 4 spreading peak loads.
In cities with fewer than 100,000 inhabitants. about 82 per cent. use their own cars to travel ,to and from the city centre. In cities of 100,000-500,000 people the percentage is 69, and of over 500,000 inhabitants. 41. Bus operators have no confidence in the future. Many traffic engineers believe that not only should public transport be kept alive, but that it should be extended to save the cities from total traffic breakdown.
The American Transit Association calculate that a street 60 ft. wide had a capacity of 2,115 cars an hour, when used only by private cars, thus providing transport for 3,700 persons. If one lane in each direction were set apart for buses, the number of cars per hour would be reduced to 1,395, enough to transport 2.130 persons, but the 180 buses which could use the streets could carry 9,000 persons.
The mission's chief recommendation is that transport problems should be studied as a whole, and that the necessary university and institutional provision be made for this, Research on traffic problems should be greatly increased, and a permanent medium be provided for exchanging views and information be t w ee n. European countries on traffic engineering and control.
. On roads design, it is advised that when existing highways become overloaded, more consideration should be given to the American experience that it is nearly always cheaper to build an entirely new road than to widen an existing one.
Regarding enforcement of traffic law, the system of on-the-spot fining is recommended, also lesser offences might be dealt with through traffic bureaux to save lime of the courts. The use of radar meters to enforce speed limits should be considered_
No Cure Suggested
British members of the mission held a Press conference on Monday. The Commercial Motor representative asked what measures they considered should be taken to stop European bus operators running into the same position as American. The reply was that ihe report contained all that could be said about the American aspect of the problem, for which no one in the United States could suggest a cure. The mission did not advocate compulsory restrictions on the use of private cars to aid public transport operators.
Did the mission learn anything which threw any light on the retention in this country of the 20-m.p.h. speed limit on .heavy goods vehicles, asked the representative. The reply was that there were no limits as low as 20 m.p.h. on any vehicles in the U.S.