New Quick-coupling Gear
28th October 1955
Page 43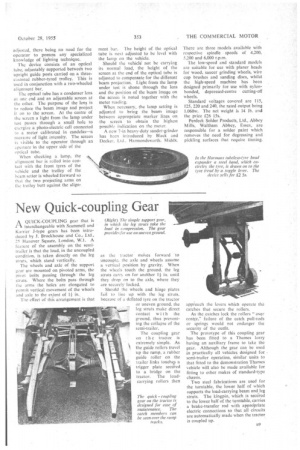 Page 43, 28th October 1955 —
New Quick-coupling Gear
Close
A QUICK-COUPLING gear that is PA interchangeable with Scammell and Karrier 7-type gears has been introduced by 1. Brockhouse and Co.; Ltd., 25 Hanover Square, London, W.1. A feature of the assembly on the semitrailer is that the load, in the uncoupled condition, is taken directly on the leg struts, which stand vertically.
The wheels and axle of the support gear are mounted on pivoted arms, the pivot, bolts passing through the leg struts. Where the bolts pass through the arms the holes are elongated to permit vertical movement of the wheels and axle to the extent of 1+ in.
The effect of this arrangement is that as the tractor moves forward to uncouple, the axle and wheels assume a vertical position by gravity. When the wheels touch the ground, the leg struts carry on for ancither 1+ in. until they drop on to the axle, where they are securely locked.
Should the wheels and hinge plates fail to line up with the leg struts, because of a deflated tyre on the tractor or uneven ground, the leg struts make direct contact with h the ground, thus preventing the collapse of the semi-trailer.
The coupling gear on t h e tractor is extremely simple. As the guide rollers travel up the ramp, a rubber guide roller on the trailer links touches a trigger plate secured to a bridge on the tractor. •The loadcarrying rollers then
approach the levers which operate the catches that secure the rollers.
As the catches lock the rollers 'over centre," failure of the catch pull-rods or springs would not endanger the security of the outfit.
The prototype of this coupling gear has been fitted to a Thames lorry having an auxiliary frame to take the gear. Although the gear can be used in practically all vehicles designed for semi-trailer operation, similar units to that fitted to the demonstration Thames vehicle will also be made available for fitting to other makes of standard-type chassis.
Two steel fabrications are used for the turntable, the lower half of which supports the load-carrying beam and leg struts. The kingpin, which is sectired to the lower half of the turntable, carries a brake-transfer rod with appnipriate electric connections so that all circuits are automatically made when the tractor is coupled up.