In a Line or Two
28th October 1955
Page 41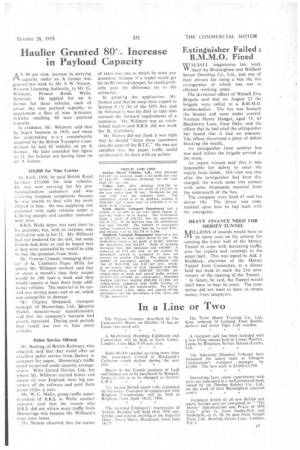 Page 41, 28th October 1955 —
In a Line or Two
Close
The Pegaso 5-tonner described in The Cornmerchd Motor on October 14 has an Eaton two-speed axle.
A Mechanical Handling Exhibition and Convention will be held at Earls Court, London, from May 9-19 next year.
Sonic 80,000 coaches carrying more than 3m. passengers arrived at Blackpool's Coliseum coach station during the past year. * • Shares in the French concirns of Lad! and Somua are to be purchased by Renault. Sornua's title is to be changed to SaviemL.R.S.
The second British coach rally, organized by Passenger Tram port in conjunction with Brighton Corporation, will be held at Brighton from April 14-15, 1956.
The national Employers' Association of Vehicle Builders will hold their 1956 conference and general meeting at the Imperial Hotel, North Shore, Blackpool, from Line 16-23 The Trent Motor Traction Co., Ltd., have ordered 34 Leyland Titan doubledeckers and seven Tiger Cub coaches.
A transport café has been included with a new filling station built at Lower Wortley, Leeds, by Ringways Service Station (Leeds), Ltd.
The Industrial Disputes Tribunal have increased the salary scale of Glasgow Corporation's transport manager by £1,000. The new scale is £3,000-£3,500.
Interesting facts about experiments with tyres are contained in a well-produced hook issued by the Dunlop Rubber Co., Ltd.; on the work of their Birmingham research centre.
Technical details of all new British and many foreign cars are contained in " 'The Motor' Specifications and Prices of 1956 Cars," price is. front booksellers and bookstalls, or Is. 2d. by post from Temple Press Ltd., Bowling Green Lane, London, E.C.1