Haulier Granted W. Increase Payload Capacity
28th October 1955
Page 41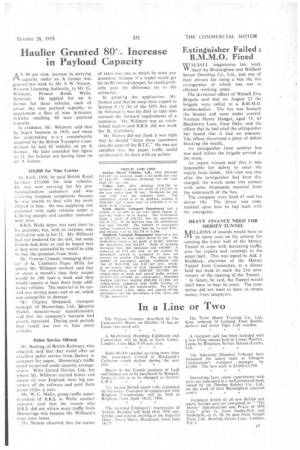 Page 41, 28th October 1955 —
Haulier Granted W. Increase Payload Capacity
Close
A'80per cent. increase in carrying capacity under an A licence was granted last week by Mr. S. W. Nelson, Western Licensing Authority, to Mr. G. Willmott, Princes Road, Wells, Somerset. He applied for an A licence for three vehicles, each of about 16:'2tons payload capacity, to supplement a fleet of nine A-licence vehicles totalling 68 tons —payload capacity.
In evidence, Mr. Willmott said that he began business in 1919, and when his undertaking w a s compulsorily acquired by the British Transport Commission he had 45 vehicles on an A licence. He later amended this figure to 21. the balance not having been on an A licence.
£15,000 for Nine Lorries In April, 1954, he paid British Road Services £15,000 for nine vehicles. lie was now carrying for his prenationalization customers and was receiving frequent complaints because he was unable to deal with the work offered to him. He was supplying one customer with eight vehicles under a C-hiring margin and another customer with nine.
B.R.S. Wells depot was next door to his premises, but, with its vehicles, was offered for sale in list 12. Mr. Willmott had not tendered for the unit, but some friends had done so and he hoped that if they were successful he would be able to buy the premises from them.
Mr. Thomas Cunane, managing director of St. Cutbberts Paper Mills, for whom Mr. Willmott worked, said that in about a month's time their output would be 160 tons a week and they would require at least three large additional vehicles. The material to be carried was writing paper and so on, which was susceptible to damage.
Mr. Charles Sheppard, transport manager of Showerings, Ltd., Jtepton Mallet, mineral-water manufacturers, said that the company's business had greatly increased. During peak periods they could use two to four more vehicles.
Pallet Service Offered Mr. Bunting, of British Railways, who objected, said that they could offer an excellent pallet service from factory to customer for paper. Showering's traffic could be carried under security arrangements. Wilts United Dairies, Ltd., for whom Mr. Willmott carried butter and . cheese all over England, were big customers of the railways and paid them about £1iin. a year.
Mr. W. C. Malin, group traffic superintendent of B.R.S. at Wells, another objector, said that the reason why B.R.S. did not obtain more traffic from Showcrings was because Mr. Willmott's rates were lower.
Mr. Nelson observed that the matter of rates was one to which he must pay attention, because if a trader could get his traffic moved cheaper, he could probably pass the difference on to the consumer.
In granting the application, Mr. Nelson said that he must have regard to Section 9 (3) (b) of the 1953 Act, and he believed it was his duty to take into account the forward requirements of a customer. Mr. Willmott was an established haulier and B.R.S. did not work for St. Cuthberts.
Mr. Nelson did not think it was right that he should "force these customers into the arms of the B.T.C." He was not satisfied that the paper traffic could satisfactorily he dealt with on pallets.