Extinguisher Failed : B.M.M.O. Fined
28th October 1955
Page 41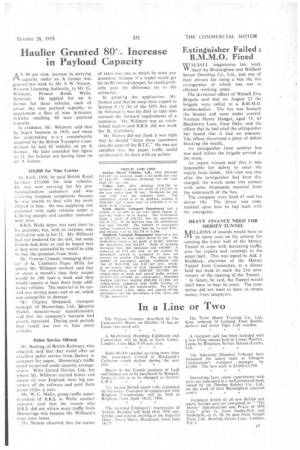 Page 41, 28th October 1955 —
Extinguisher Failed : B.M.M.O. Fined
Close
IVALSALL magistrates last week VV fined the Birmingham and Midland Motor Omnibus Co., Ltd., and one of their drivers for using a bus the fire extinguisher of which was not in efficient working order.
The divisional officer of Walsall Fire Brigade said that on August 23 the brigade were called to a B.M.M.O. double-decker. The fire was beneath the bonnet and soon under control. Norman Henry Hodges, aged 53, 65 Blackberry Lane, Four Oaks, told the officer that he had tried the extinguisher but found that it had no pnessure. The officer discovered a piece of debris blocking the nozzle.
An extinguisher from another bus was used before the brigade 'arrived at the scene.
An expert witness said that it was impossible for debris to enter the nozzle from inside. His view was that after the extinguisher had been discharged, the nozzle came into contact with some bitumastic material from the underneath of the bus.
The company were fined £5 and the driver 10s. The driver was commended upon how he had dealt with the emergency.
HEAVY FINANCE NEED FOR MERSEY TUNNEL
MILLIONS of pounds would have to be spent soon on the scheme for opening the lower half of the Mersey Tunnel to cope with increasing traffic, also for repairs 'and renewals to the upper half. This was stated by Ald. J. Braddock, chairman of the Mersey Tunnel Joint Committee, at a dinner held last week to mark the 21st anniversary of the opening of the Tunnel.
In future, he said, the Tunnel would itself have to bear its costs. The committee did not want to have to obtain money from ratepayers.