Stop Refused on East Anglian Run
28th October 1955
Page 40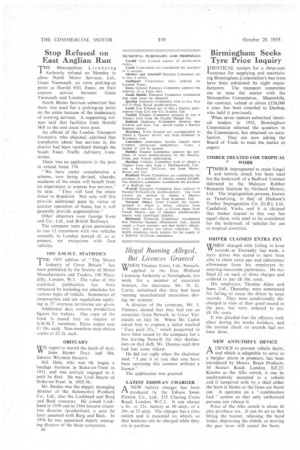 Page 40, 28th October 1955 —
Stop Refused on East Anglian Run
Close
'THE Metropolitan Licensing I Authority refused on Monday to allow North Motor Services, Ltd., Great Yarmouth, an extra picking-up point at Harold Hill, Essex, on their
express service between Great Yarmouth and London.
North Motor Services submitted that there was need for a picking-up point on the estate because of the inadequacy of existing services. A supporting witness' said that facilities from Harold Hill to the east coast were poor. An official of the London Transport Exedutive, who objected, admitted that complaints about bus services in the district had been ventilated through the South Essex Traffic Advisory , Committee.
There was an application in the post to extend route 174.
"We have under consideration a scheme, now being devised, whereby residents of the estate will benefit from an experiment in express bus services," he said. "They will feed the estate direct to Romford. Not only will this provide additional seats by virtue of quicker operation of buses, but it will generally provide augmentation." Other objectors were George Ewer and Co., Ltd., and British Railways. The company were given permission to run 12 excursions with two vehicles annually to London instead of, as at present, six excursions with four vehicles.
1955 S.M.M.T. STATISTICS
THE 1955 edition of "The Motor Industry of Great Britain has been published by the Society of Motor Manufacturers and Traders, 148 Piccadilly, London, W.I. The value of this statistical publication has been enhanced by including tax schedules for various types of vehicle. Summaries of construction and use regulations applying in 57 overseas territories are given. Additional data concern productien figures for trailers. One copy of the book is issued free on request to S.M.M.T. members. Extra copies cost £1 10s. each. Non-members may obtain copies at £2 2s. each.
OBITUARY
VJUE regret to record the death of ALD. YT JOHN HENRY DALE and MR. ERNEST WILFRED SWALFS. Ald. Dale, who was 68, began a haulage business in Stoke-on-Trent in 1931, and was actively engaged in it until he died. He was Lord Mayor of Stoke-on-Trent in 1935-36. Mr. Swales was the depaty managing director of the Automotive Products Co., Ltd., also the Lockheed and Borg and Beck concerns. He joined Lockheed in 1939 and in 1944 became executive director (production), a post he later assumed with Borg and Beck. In 1954 he was appointed deputy managing director of the three companies.
tr6