Birmingham Seeks Tyre Price Inquiry
28th October 1955
Page 40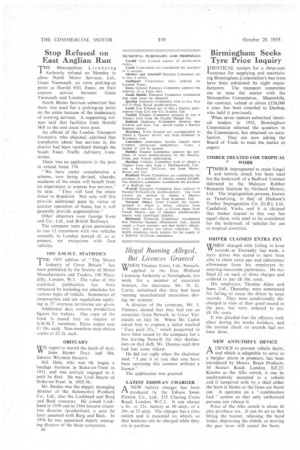 Page 40, 28th October 1955 —
Birmingham Seeks Tyre Price Inquiry
Close
I DENTICAL tenders for a three-year contract for supplying and maintaining Birmingham Corporation's bus tyres have been submitted by eight manufacturers. The transport committee are to raise the matter with the Monopolies Commission. Meanwhile, the contract, valued at about £120,000 a year, has been awarded to Dunlop, who held it previously.
When seven makers submitted identical tenders in 1952, Birmingham Corporation referred the question to the Commission, but obtained no satisfaction. They are now asking the Board of Trade to treat the matter as urgent.
TIMBER TREATED FOR TROPICAL I WORK
'TIMBER impregnated to resist fungal I and termite attack has been used for the bodywork of a Bedford 3-tonner delivered to the Malayan Rubber 'Research Institute by Orchard Motors, . Ltd. The impregnation•process, known as Tanalizing, is that of Hickson's Timber Impregnation Co. (G.B.), Ltd., Castleford, Yorks, and it is claimed that timber treated in this way has equal claim with steel to be considered for the bodywork of vehicles for use in tropical countries.
DRIVER CLAIMED EXTRA PAY
WHEN charged with failing to keep IT records at Thornaby last week, a lorry driver was stated to have been able to claim extra pay and subsistence allowances from his employers by entering inaccurate particulars. He was fined £2 on each of three charges and ordered to pay £8 10s. costs. His employers, Thomas Allen and Sons, Ltd., Thornaby, were summoned for failing to cause the driver to keep records. They were conditionally discharged in view of their good record in the past, but were ordered to pay £.8 10s. costs. It was pleaded that the offences took place during the works holidays, and the normal check on records had not been done.
NEW ANTI-THEFT DEVICE
A DEVICE to prevent vehicle thefts, Fl and which is adaptable to serve as a burglar alarm in premises, has been introduced by Messrs. Brace Products, 10 Scutari Road, London. S.E.22. Known as the Alto switch, it can be unobtrusively mounted in a vehicle and if tampered with by a thief either the horn is blown or the fuses are burnt out. It operates on a "combination lock" system so that only authorized persons can release it. Price of the Allo switch is about £6 plus purchase tax. It can be set so that lifting the bonnet, releasing the hand brake, depressing the clutch, or moving the gear lever will sound the horn.