Comments on U.S. Road Report rommENTs on the report of
28th October 1955
Page 39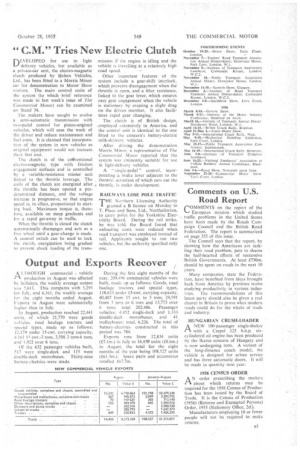 Page 39, 28th October 1955 —
Comments on U.S. Road Report rommENTs on the report of
Close
the • European mission which studied traffic problems in the United States• have been made by the Roads Campaign Council and the British Road Federation. The report is summarized on page 355 of this issue.
The Council saya, that the report, by showing how the Americans are tackling their road problem, puts to shame the half-hearted efforts of successive -British Governments. At least £750m. should be spent on rOads in the next 10 years.
Many companies, state the Federation, have benefited from ideas brought back from America by previous teams studying productivity in various industries. The recommendations of this latest party should also be given a real chance in Britain to prove what modern roads could do for the whole of trade and industry.
.HUNGARIAN CRUSH-LOADER A NEW 100-passenger single-decker ./—/ with a Csepel 125 b.h.p. sixcylindered oil engine has been produced by the Ikarns concern of Hungary and is now undergoing tests. A variant of the long-distance coach model, the vehicle is designed for urban service and has three automatic doors. It will be made in quantity next year. .
1956 CENSUS ORDER AN -order prescribing the matters 1-1about which returns may be required for the 1956 Census of Production has been issued by the Board of Trade. It is the Census of Production (1956) (Returns and Exempted Persons) Order, 1955 (Stationery Office, 2d.).
Manufacturers employing 10 or fewer people will not be required to make returns.