Man Fell From Bus : Company Not Liable
28th October 1955
Page 37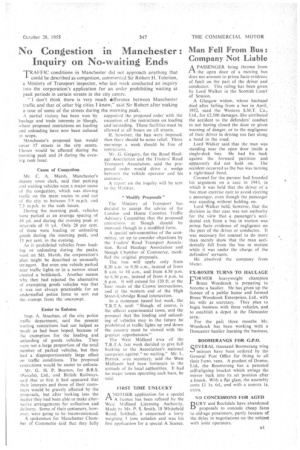 Page 37, 28th October 1955 —
Man Fell From Bus : Company Not Liable
Close
APASSENGER being thrown from . the open door of a moving bus does not amount to prima facie evidence of fault on the part of the driver and conductor. This ruling has been given by Lord Walker in the Scottish Court of Session.
A Glasgow widow, whose husband died after falling from a bus in April, 1952, sued the Western S.M.T. Co., Ltd., for £2,500 damages. She attributed the accident to the defenders' conduct in not having closed the door or given warning of danger, or to the negligence of their driver in driving too fast along a bend in the road.
Lord Walker said that the man was standing near the open door inside a single-deck bus. He had his back against the forward partition and apparently did not hold on. The accident occurred as the bus was turning a right-hand bend.
Counsel for the pursuer had founded his argument on a case in 1943, in which it was held that the driver of a bus must exercise care to avoid ejecting a passenger, even though the passenger was standing without holding on.
Lord Walker held, however, that the decision in that case was not authority for the view that a passenger's accidental exit from a bus in motion was' prima facie evidence of negligence on the part of the driver or conductor. It was necessary for counsel to do more than merely show that the man accidentally fell from the bus in motion while it was under the charge of the defenders' servants.
He absolved the company from blame.
EX-BOXER TURNS TO HAULAGE
FORMER heavyweight champion Bruce Woodcock is preparing to become a haulier. He has given up the licence of a public house and formed Bruce Woodcock Enterprises, Ltd., with his wife as secretary. They plan to begin business with three vehicles, and to establish a depot in the Doncaster area,'
For the pat three months Mr. Woodcock has been working with a Doncaster haulier learning the business.
BOOMERANGS FOR G.P.O. QEVERAL thousand Boomerang wing Is-) mirrors have been ordered by the General Post Office for fitting to all their 5-cwt. vans. A product of Desmo, Ltd., the -Boomerang has a patented self-aligning bracket which swings the mirror back into its set position after a knock. With a fiat glass, the assembly costs £1 is. 6d., and with a convex ls. extra.
NO CONCESSIONS FOR AGED BURY and Rochdale have abandoned proposals to concede cheap fares to old-age pensioners, partly because of the delay in negotiations on the subject with joint operators.