W.M.P.T.A. Blamed for Breakdown
28th October 1955
Page 36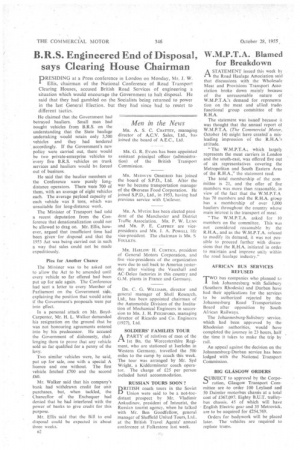 Page 36, 28th October 1955 —
W.M.P.T.A. Blamed for Breakdown
Close
A STATEMENT issued this week by 1-1 the Road Haulage Astociation said that discussions with the Wholesale Meat and Provisions 'Transport Association broke down mainly because of the unreasonable nature of W.M.P.T.A.'s demand for representa tion on the meat and allied trade.,, functional group comfnittee of the R.H.A.
The statement was issued because it was thought that the annual report Of .(The Commercial Motor, October 14) might have created a misleading impression of the R.H.A.' attitude.
"The W.M.P.T.A., which largely represents the meat carriers in London and the south-east, was offered five out of six representatives covering the Metropolitan and South Eastern Area of the R.H.A.," the statement read.
The total membership of the corn mittee is 21, and the offer of five members was more than reasonable, in view of the fact that the W.M.P.T.A has 70 members and the RI-LA. group has a membership of over 1,000 hauliers throughout the country whose main interest is the transport of meat.
"The W.M.P.T.A. asked for 10 members on the committee. This was not considered reasonable by the R.H.A., and as the W.M.P.T.A. refused to modify its demand, it was not possible to proceed further with discussions that the R.H.A. initiated in order to maintain and improve unity within the road haulage industry."
AFRICAN BUS SERVICES REFUSED
TWO bus companies who planned to link Johannesburg with Salisbury (Southern Rhodesia) and Durban have had their applications for the services to be authorized rejected by the Johannesburg Road Transportation Board after opposition by South African Railways.
The Johannesburg-Salisbury service, which had been approved by the Rhodesian authorities, would have completed the journey in 23 hours, half the time it takes to make the trip by rail, • An appeal against the decision on the Johannesburg-Durban service_has been lodged with the National Transport Commission.
BIG GLASGOW ORDERS
SUBJECT to approval by the Corporation, Glasgow Transport Committee • are to order 100 Leyland and 50 Daimler motorbus chassis at a total cost of £367,097. Eighty B.U.T. trolleybus chassis, 45 of which will have English Electric gear and 35 Metrovick, are to be acquired for £254,769.
Orders for bodywork will be placed later. The vehicles are required to replace trams.