Men in the News
28th October 1955
Page 36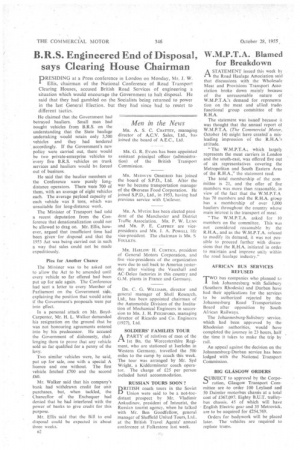 Page 36, 28th October 1955 —
Men in the News
Close
MR. A. S. C. CHATTEY, managing director of A.C.V. Sales, Ltd" has joined the board of A.E.C., Ltd.
Ma. G. R. Evots has been appointed assistant principal officer (administration) of the British Transport Commission.
Ma. MEDWYN ORIvIEROD has joined the board of S.P.D., Ltd. After the war he became transportation manager of the ()overseas Food Corporation. He joined S.P.D., Ltd., in 1953, having had previous service with Unilever,
MR. A. MvcoE has been elected prest. dent of the Manchester and District Traffic Association. MR. P. W. LUNN and Ma. P. E. CAFFREY are vicepresidents and Ma. J. A. POWELL life vice-president. The chairman is MR. S FOULKES.
MR. HARLOW H. CURTICE. president of General Motors Corporation, and five vice-presidents of' the organization were due to sail back to America yesterday after visiting the Vauxhall and AC-Delco factories in this country and G.M. plants in France and Germany.
DR. C. G. WieriAms, director and general manager of Shell Research, Ltd:, has been appointed chairman of the Automobile Division of the Institution of Mechanical Engineers in succession to MR. J. H. PITCHFORD, managing director of Ricardo and Co. Engineers (1927), Ltd.
SOLDIERS' FAMILIES TOUR
APARTY of relatives of men of the 1st Bn. the Worcestershire Regiment, who are stationed at Iserlohn in Western Germany, travelled the 500 miles to the camp by coach this week. The tour was arranged by Mr. Syd Wright. a Kidderminster coach operator. The charge of £25 per person included hotel accommodation.
RUSSIAN TOURS SOON? DRMSH coach tours in the Soviet I) Union were said to be a not-toodistant prospect by Mr. Vladimir Ankudinov, president of Tntourist, the Russian tourist agency, when he talked with Mr. Ben Goodfellow, general manager of Sheffield United Tours, Ltd., at the British Travel Agents' annual conference at Folkestone last week.