B.R.S. Engineered End of Disposal, says Clearing House Chairman
28th October 1955
Page 36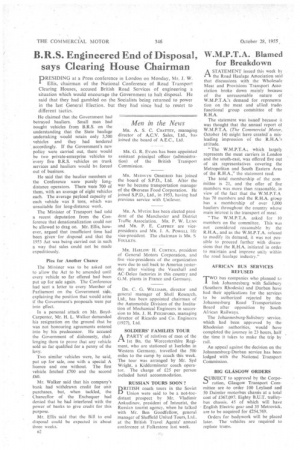 Page 36, 28th October 1955 —
B.R.S. Engineered End of Disposal, says Clearing House Chairman
Close
pRESIDING at a Press conference in London on Monday, Mr. J. W.
Ellis, chairman of the National Conference of Road Transport Clearing Houses, accused British Road Services of engineering a situation which would encourage the Government to halt disposal. He said that they had gambled on the Socialists being returned to power in the last General Election, but they had since had to resort to different tactics.
• He claimed that.the Government had betrayed hauliers. Small men had bought vehicles from B.R.S. on the understanding that the State haulage undertaking would retain only 3,500 vehicles and they had tendered accordingly. If the Government's new policy were carried out, there would be two private-enterprise vehicles to 'every five B.R.S. vehicles on trunk services and hauliers would be. forced out of business.
He said that the haulier members of the Conference were purely longdistance operators. There were 700 of them, with an average of eight vehicles each. The average payload capacity of each vehicle was 8 tons, which was unsuitable for long-distance work.
The Minister of Transport had told a recent deputation from the Conference that denationalization could not be allowed to drag on. Mr. Ellis, however, argued that insufficient time had been givenfor disposal and that the 1953 Act was being carried out in such a way that sales could not be made expeditiously.
Flea for Another Chance The Minister was to be asked not to allow the Act to be amended until every vehicle so far offered had been put up for sale again. The Conference had sent a letter to every Member of Parliament on the Government side, explaining the position that would arise if the Government's proposals were put into effect.
In a personal attack on Mr. BoydCarpenter, Mr. H. L. Walker demanded his resignation on the ground that he was not honouring agreements entered into by his predecessor. He accused the Government of diShonesty, challenging them to prove that any vehicle sold so far qualified for a penny of the levy.
Two similar vehicles were, he said, put up for sale, one with a special A licence and one without. The first vehicle fetched £700 and the second £60.
Mr. Walker said that his company's bank had withdrawn credit for unit purchases, but, when tackled, the Chancellor of the Exchequer had denied that he had interfered with the power of banks to give credit for this purpose.
Mr. Ellis said that the Bill to end disposal could be expected in about three weeks: