More Tippers Authorized
28th October 1955
Page 35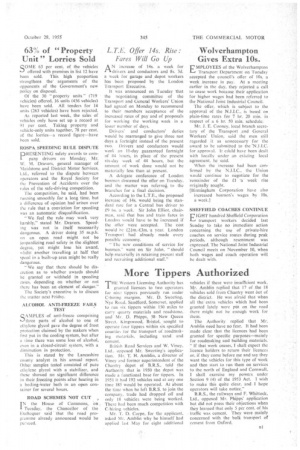 Page 35, 28th October 1955 —
More Tippers Authorized
Close
THE Western Licensing Authority has granted licences to two operators for nine tippers previously run under C-hiring margins. Mr. D. Sweeting, Nye Road, Sandford, Somerset, applied to run six tippers within 150 miles to carry quarry materials and roadstone; and Mr. D. Phipps, 58NeW Queen Street, Kingswood, Bristol, sought to operate four tippers within six. specified counties for the transport of. roaclinaking materials, including sand . and cem mt.
British Road Services and W. Viney, Ltd., opposed Mr. Swceting's application. Mr. T. H. Amblin, a director of Viney and former superintendent of the Chantry depot of 13R.S., told the Authority that in 1950 the depot was made a functional base for tippers. In 1951 it had 192 vehicles and at any one time 185 would be operated. At about the time when he left B.R.S. to join the company, trade had dropped off and only 18 vehicles were being worked. There had been much competition with C-hiring vehicles.
Mr. T. D. corpe, for the applicant, asked Mr. Amblin why he himself had applied last May for eight additional
vehicles if there were insufficient work. Mr. Amblin replied that 17 of .the 18 vehicles sold from Chant my went out of the district. He waS afraid that when all the extra vehicles which had been granted lately were put on the road there might not he enough work for them.
The Authority replied that Mr. Amblin need have no fear. It had been made clear that the licences had been granted for specific purposes—mainly for roadmaking and building materials. " If that work ceases, r shall expect the licence holders to return their licences or, if they come before me and say they want the vehicles for this type of work and then start to run them on Services to the north of England and Cornwall, I shall exercise my powers under Section 9 (4) of the 1953 Act. I wish tO make this quite clear, and I hope operators will take notice."
B.R.S., the railways and F. WhittoGk, Ltd., opposed Mr. Phipps' application but did not press their objections when they learned that only 5 per cent, of his traffic was cement. They were mainly concerned with the bull( transpOrt of cement from Oxford.