L.T.E. Offer 14s. Rise: Fares Will Go Up
28th October 1955
Page 35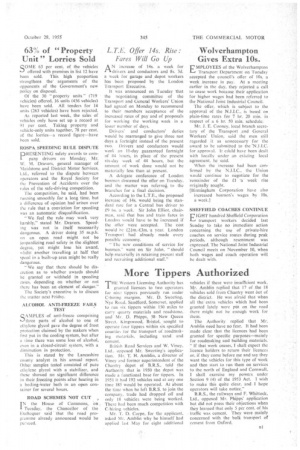 Page 35, 28th October 1955 —
L.T.E. Offer 14s. Rise: Fares Will Go Up
Close
A N increase of 14s. a week for drivers and conductors and '8s. 3d. a Week for garage and depot workers has been proposed by the London Transport Executive.
It was announced on Tuesday That the negotiating cornmittee . of the Transport and General Workers' Union had agreed on Monday to recommend to their members acceptance of the increased rates of pay and of proposals for working the working week in a lesser number of days.
Drivers' and conductors' duties would be rearranged to give three rest days a fortnight instead of the present two. Drivers and conductors would work an 11-day guaranteed fortnight of 84 hour's, in place of the present six-day week of 44 hours, but the amount of work done would not be materially less than at present.
A delegate . conference . of London busmen discussed the offer on Tuesday, and the matter was referreel to the branches for a •final decision.'
According to the L.T.E., the proposed increase of 14s. would bring the standard rate for a Central bus driver to £9 6s. a week. Sir John Elliot, chairmail, said that bus and .train fares in London would have to be increased. if the offer were accepted. The cost would be :E2im.-£3m.'a year. London Transport had already made every possible economy.
"[he new conditirins of service for busmen," went on Sir John, " should help materially in retaining present staff and recruiting additional staff."