Passing Comments
28th October 1955
Page 32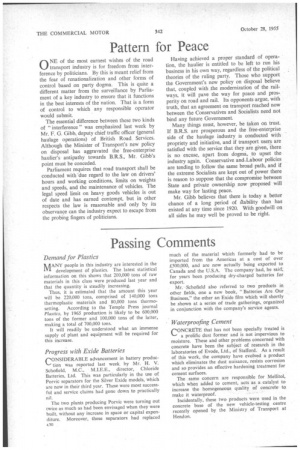 Page 33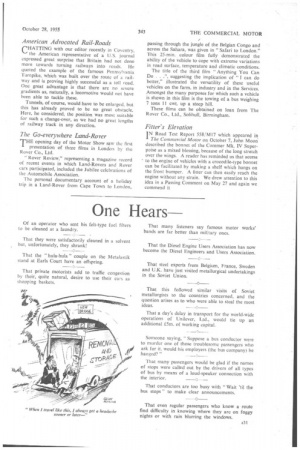 Page 32, 28th October 1955 —
Passing Comments
Close
Demand for Plastics
MANY people in this industry are interested in the development of plastics. The latest statistical information on this shows that 200,000 tons of raw materials in this class were produced last year and that the quantity is steadily increasing.
Thus, it is estimated that the amount this year will be 220,000 tons, comprised of 140,000 tons thermoplastic materials and 80,000 tons thermo
setting. According to the Temple Press journal Plastics, by 1965 production is likely to be 600,000 tons of the former and 100,000 tons of the latter, making a total of 700,000 tons.
It will readily be understood what an immense supply of plant and equipment will be required for this increase.
Progress with Exide Batteries
CONSIDERABLE advancement in battery produc'—' tion was reported last week. by Mr. H. V. Schofield, M.C., M.I.E.E., director, Chloride Batteries, Ltd. This was particularly in the use of Porvic separators for the Silver Exide models, which are now in their third year. These were most successful and service claims had gone down to practically nil.
The two plants producing Porvic were turning out twice as much as had been envisaged when they were built, without any increase in space or capital expenditure. Moreover, these separators had replaced much of the material which formerly had to be imported from the Americas at a cost of over £500,000, and are now actually being exported to Canada and the U.S.A. The company had, he said, for years been producing dry-charged batteries for export.
Mr. Schofield also referred to two products in other fields, one a new book, "Batteries Are Our Business," the other an Exide film which will shortly be shown at a series of trade gatherings, organized in conjunction with the company's service agents.
Waterproofing Cement
CONCRETE that has not been specially treated is a prolific dust former and is not impervious to moisture. These and other problems concerned with concrete have been the subject of research in the laboratories of Evade, Ltd., of Stafford. As a result of this work, the company have evolved a product which eliminates the dust nuisance, resists corrosion and so provides an effective hardening treatment for cement surfaces.
The same concern are responsible for Mellitol, which when added to cement, acts as a catalyst to increase the homogeneous quality of concrete to make it waterproof.
Incidentally, these two products were used in the concrete base of the new vehicle-testing centre recently opened by the Ministry of Transport at Hendon.
American Advocated Rail-Roads
CHATTING with our editor recently in Coventry, the American representative of a U.S. journal expressed great surprise that Britain had not done more towards turning railways into roads, lie quoted the example of the famous Pennsylvania Turnpike, which was built over the route of a railway and is proving highly successful as a toll road. One great advantage is that there are no severe gradients as, naturally, a locomotive would not have been able to tackle these.
Tunnels, of course, would have to be enlarged, but this has already proved to be no great obstacle. Here, he considered, the position was most suitable for such a change-over, as we had no great lengths of railway track in any direction.
The Go-everywhere and-Rover
THE opening day of the Motor Show saw the first I presentation of there films in London by the Rover Co., Ltd.
" Rover Review," representing a magazine record of recent events in which Land-Rovers and Rover cars participated, included the Jubilee celebrations of the Automobile Association.
The personal documentary account of a holiday trip in a Land-Rover from Cape Town to London, passing through the jungle of the Belgian Congo and across the Sahara, was given in "Safari to London." This 25-min. colour film fully demonstrated the ability of the vehicle to cope with extreme variations in road surface, temperature and climatic conditions.
The title of the third film "Anything You Can Do . . .", suggesting the implication of "I can do better," illustrated the versatility of these useful vehicles on the farm, in industry and in the Services. Amongst the many purposes for which such a vehicle is shown in this film is the towing of a bus weighing 7 tons 11 cwt. up a steep hill.
These films can be obtained on loan from The Rover Co., Ltd., Solihull, Birmingham.
Fitter's Elevation
TN Road Test Report 558/M17 which appeared in A The Commercial Motor on October 7, John Moon described the bonnet of the Commer Mk. IV Superpoise as a mixed blessing, because of the long stretch over the wings. A reader has reminded us that access to the engine of vehicles with a crocodile-type bonnet can be facilitated by making a shelf which hangs on the front bumper. A fitter can then easily reach the engine without any strain. We drew attention to this idea in a Passing Comment on May 27 and again we commend it