One Hears
28th October 1955
Page 33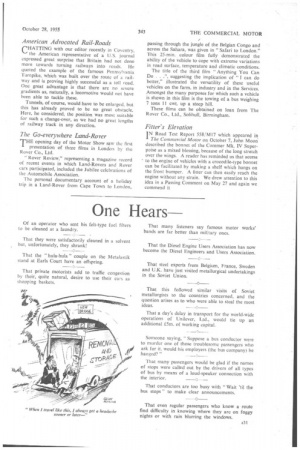 Page 33, 28th October 1955 —
One Hears
Close
Of an operator who sent his felt-type fuel filters to be cleaned at a laundry.
That they were satisfactorily cleaned in a solvent but, unfortunately, they shrank!
That the " hula-hula " couple on the Metalastik stand at Earls Court have an offspring.
That private motorists add to traffic congestion by their, quite natural, desire to use their cars as shopping baskets. That many listeners say famous motor works' bands are far better than military ones.
That the Diesel Engine Users Association has now become the Diesel Engineers and Users Association.
That steel experts from Belgium, France, Sweden and U.K. have just visited metallurgical undertakings in the Soviet Union.
That this followed similar visits of Soviet metallurgists to the countries concerned, and the question arises as to who were able to steal the most ideas.
That a day's delay in transport for the world-wide operations of Unilever, Ltd., would tie up an additional £5m. of working capital.
Someone saying, "Suppose a bus conductor were to murder one of those troublesome passengers who ask for it, would his employers (the bus company) be hanged?"
That many passengers would be glad if the names of stops were called out by the drivers of all types of bus by means of a loud-speaker connection with the interior. --0— — That conductors are too busy with "Wait 'til the bus stops" to make clear announcements.
That even regular passengers who know a route find difficulty in knowing where they are on foggy nights or with rain blurring the windows.