Pattern for Peace
28th October 1955
Page 32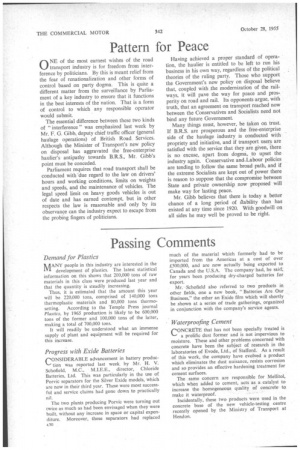 Page 32, 28th October 1955 —
Pattern for Peace
Close
ONE of the most earnest wishes of the road transport industry is for freedom from interference by politicians. By this is meant relief from the fear of renationalization and other forms of control based on party dogma. This is quite a different matter from the surveillance by Parliament of a key industry to ensure that it functions in the best interests of the nation. That is a form of control to which any responsible operator would submit.
The essential difference between these two kinds of " interference " was emphasized last week by Mr. F. G. Gibb, deputy chief traffic officer (general haulage operations) of British Road Services. Although the Minister of Transport's new policy on disposal has aggravated the free-enterprise haulier's antipathy towards B.R.S., Mr. Gibb's point must be conceded.
Parliament requires that road transport shall be conducted with 'due regard to the law on drivers' hours and working 'conditions, limits on weights and speeds, and the maintenance of vehicles. The legal speed limit on heavy goods vehicles is out of date and has earned contempt, but in other respects the law is reasonable and only by its observance can the industry expect to escape from the probing fingers of politicians. Having achieved a proper standard of operation, the haulier is entitled to be left to run his business in his own way, regardless of the political theories of the ruling party. Those who support the Government's new policy on disposal believe that, coupled with the modernization of the railways, it will pave the way for peace and prosperity on road and rail. Its opponents argue, with truth, that an agreement on transport reached now between the Conservatives and Socialists need not bind any future Government.
Many things must, however, be taken on trust. If B.R.S. are prosperous and the free-enterprise side of the haulage industry is conducted with propriety and initiative, and if transport users are satisfied with the service that they are given, there is no excuse, apart from dogma, to upset the industry again. Conservative and-Labour policies are tending to follow the same broad path, and if the extreme Socialists are kept out of power there is reason to suppose that the compromise between State and private ownership now proposed will make way for lasting peace.
Mr. Gibb believes that there is today a better chance of a long period of glability than has existed at any time since 1920. With goodwill on all sides he may well be proved to be right.