. Higher Speed Vital to Economy
28th October 1949
Page 34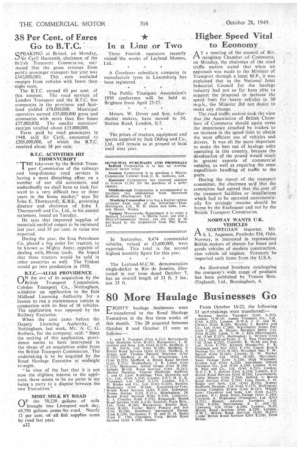 Page 34, 28th October 1949 —
. Higher Speed Vital to Economy
Close
• A T a meeting of the council of Birr1 mingham Chamber 'of Commerce, on Monday, the chairman of the road traffic section stated that when art approach was made to the Minister of Transport through a local M.P., it was explained that as -the National Joint Industrial Council for the haulage industry had not so farbeen able to support the proposal to increase the speed limit for heavy veli!cles to 30 m.p.h., the Minister did not desire to make any change.
The road traffic section took the view that the Association of British Chambers of Commerce should again stress the importance attached by traders ,to an. increase in the speed limit to obtain the most efficient use of vehicles and drivers. " It was all, the more important to make the best use of haulage units operating in this country,' because the devaluation of. the pound Would result in greater exports of commercial vehicles, as well as requiring the most expeditions handling of traffic to the ports.
During the report of the transport committee, the chairman said that the committee had agreed that the. cost of the transport facilities orinstallations which had to be operated uneconom'cally for strategic reasons should be borne by the Exchequer and not by the British Transport Commission.
NORWAY WANTS U.K.
• VEHICLES
A NORWEGIAN importer, Mr. .1-A S. L. Aageness, Postboks 934, Oslo. Norway, is interested in representing British makers of-chassis for buses and goods vehicles of modern construction. also vehicle oil engines. Formerly he imported such items from the U.S.A.
An illustrated brochure cataloguing the company's wide range of products has been published by Tirnson Bros. (England), Ltd., Birmingham, 4.