Quick Turnaround on Milk Haulage
28th October 1949
Page 32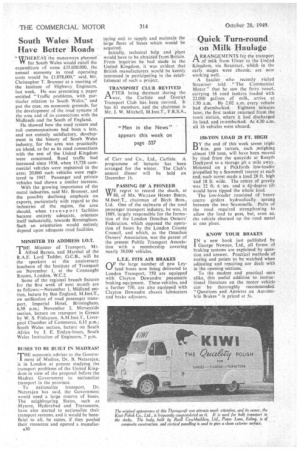 Page 32, 28th October 1949 —
Quick Turnaround on Milk Haulage
Close
A RRANGEMENTS for the transport .1-1 of Milk from Ulster to the United • Kingdom, via Stranraer, which in the early stages were • chaotic, are now working well.
A haulier . who recently visited Stranraer told • "The Commercial Motor " that he saw the ferry vessel, carrying 16 road tankers loaded With 22,000 gallons of milk, arrive at 1.50 a.m. By 2.02 a.m. every vehicle had disembarked. Eighteen minutes later, the first tanker returned from the town station, where it had discharged its load, and re-embarked. At 4.30 a.m. all 16 vehicles were aboard.
150-TON LOAD 28 FT. HIGH
BY the end of this week seven triple 6-in, gun turrets, each ,weighing almost 150 tons, will have been moved by road from the quayside at Rosyth Dockyard to a storage pit a mile away. Mounted on a Pickfords low-loader propelled by a Scammell tractor at eaeh end, each turret made a load 28 ft. high and 18 ft. wide. The centre of gravity was 22 ft. 6 ins, and a 6i-degree tilt would have tipped the whole load.
The low-loader consisted of heavy centre girders hydraulically sprung between the two Seammells. Parts of the road required strengthening to allow the load to pass, but, even so, the vehicle churned up the road metal at one place.
KNOW YOUR BRAKES I N a new book just published by George Newnes, Ltd., all forms of braking systems are explained by question and answer. Practical methods of testing and points to he watched when adjusting and repairing are dealt with in the opening sections.
To the student and practical man alike, this • useful addition to instructional literature on the motor vehicle can be thoroughly recommended. "Questions and Answers on Automobile Brakes" is priced at 5s.