High Strength-weight Ratio in Plastics A HAND-BUILT plastic body might
28th November 1952
Page 58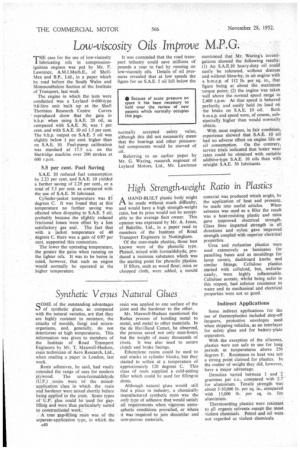 Page 58, 28th November 1952 —
High Strength-weight Ratio in Plastics A HAND-BUILT plastic body might
Close
Keywords :
Dielectrics
,
Plastics
,
Cellulose
,
Thermoplastics
,
Thermosetting Plastics
,
Bakelite
,
Melamine
,
Cellulose Acetate
,
Wood Flour
,
Celluloid
,
Phenolic Resin
be made without much difficulty, and would have a high strength-weight ratio, but its price would not be acceptable to the average fleet owner. This opinion was expressed by Mr. A. Jones, of Bakelite. Ltd., in a paper read to members of the Institute of Road Transport Engineers in Nottingham.
Of the man-made plastics, those best known were of the phenolic type. Phenol, mixed with formaldehyde, produced a resinous substance which was the starting point for. phenolic plastics.
If fillers, such as wood flour, mica or chopped cloth, were added, a mould material was produced which might, by the application of heat and pressure, be made into useful articles. When asbestos was used as a filler the result was a heat-resisting plastic and mica gave improved electrical strength. Glass fibre imparted strength in all directions and nylon gave improved strength coupled with superior electrical properties.
Urea and melamine plastics were used extensively as laminates for panelling buses and as mouldings for lamp covers, dashboard knobs and similar fittings. Cellulose plastics started with celluloid, but, unfortunately, were highly inflammable. Cellulose acetate, whilst being safer in this respect, had inferior resistance to water and its mechanical and electrical properties were not so good.