Power Bulk Loading from Ground Level
28th November 1952
Page 53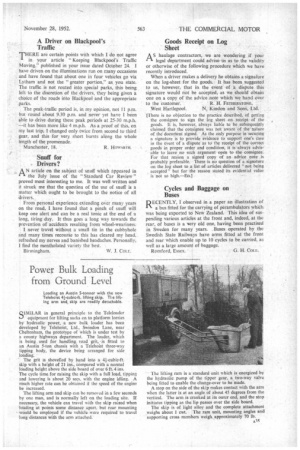 Page 53, 28th November 1952 —
Power Bulk Loading from Ground Level
Close
Loading an Austin 5-tonner with the new Telehoist 4i-cubic-ft. lifting skip. 'The lifting arm and skip are readily detachable.
QIMILAR in general principle to the Teleloader 1,--) equipment for lifting sacks on to platform lorries by hydraulic power, a new bulk loader has been developed by Telehoist, Ltd., Swindon Lane, near Cheltenham, the prototype of which is under test by a county highways department. The loader, which is being used for handling road grit,is fitted to an Austin 5-ton chassis with a Telehoist three-way tipping body, the device being arranged for side. loading.
The grit is shovelled by hand into a 41-cubic-ft. skip with a height of 21 ins., 'compared with a normal loading height above the side board of over 6 ft. 4 ins. The cycle time. for raising the skip with a full load, tipping and lowering is about 20 secs, with the engine idling. A Much higher rate can be obtained if the speed of the engine be increased.
The lifting arm and skip can be removed in a few seconds by one man, and is normally left on the loading site. If necessary, the vehicle can travel with the skip raised when 'loading at points some distance apart, but rear mounting -•would be employed if the velviele were required to travel long distances with the arm attached.
The lifting ram is a standard unit which is energized by the hydraulic pump of the tipper gear, a two-way valve being fitted to enable the change-over to be made.
A stop on the side of the skip makes contact with the arm when the latter is at an angle of about 45 degrees from the vertical. The arm is cranked at its outer end, and the stop initiates tipping as the lip passes over the side board. The skip is of light alloy and the complete attachment weighs about 1 cwt. The ram unit, mounting angles and
supporting cross members weigh approximately 70 lb,