Goods Receipt on Log Sheet
28th November 1952
Page 53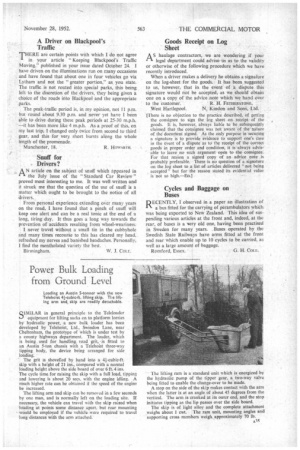 Page 53, 28th November 1952 —
Goods Receipt on Log Sheet
Close
A S haulage contractors, we are wondering if your 4-k legal department could advise us as to the validity or otherwise of the following procedure which we have recently introduced.
When a driver makes a delivery he obtains a signature on the log-sheet for the goods. It has been suggested to us, however, that in the event of a dispute this signature would not be accepted, as we should Obtain one on a copy of the advice. note which we hand over
to the customer. R. H. FETHERSTONE, West Hartlepool. N. Kindon and Sons, Ltd.
[There is no objection to the practice described, of getting the consignee to sign the log. sheet on receipt of the goods. It is, however, always liable to be subsequently claimed that' the consignee was not 'aware of the' nature of the docunient signed. As the only purpose in 'securing a signature is to provide evidence to support. one's case in the event of a dispute as to the receipt of the correct goods in proper order and condition, it is always advisable to leave no such argument open to the. consignee: For that reason a signed copy of an advice note is probably preferable. There is no question of a signature on the log sheet to a list of articles delivered "not being accepted " but for the reason stated its evidential value is not so high.—En.]