A Driver on Blackpool's Traffic
28th November 1952
Page 53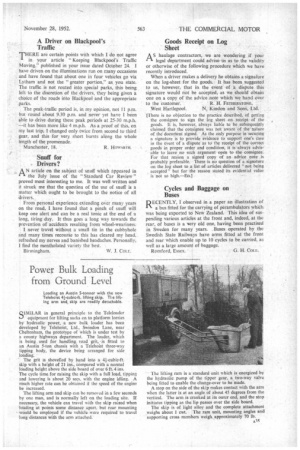 Page 53, 28th November 1952 —
A Driver on Blackpool's Traffic
Close
THERE are certain points with which I do not agree A in your article "Keeping Blackpool's Traffic Moving," published in your issue dated October 24. have driven on the illuminations run on many occasions and have found that about one in four vehicles go via Lytham and not the "greater portion," as you state. The traffic is not routed into special parks, this being left to the discretion of the drivers, they being given a choice of the roads into Blackpool and the appropriate parks.
The peak-traffic period is, in my opinion, not 11 p.m. but round about 9.30 p.m. and never yet have I been able to drive during these peak periods at 25-30 m.p.h. —it has been more like 4 m.p.h. As a proof of this, on my last trip, I changed only twice from second to third gear, and this for very short bursts along the whole length of the promenade.
Manchester, 18. R. HOWARTH.
Snuff for Drivers?
AN article on the subject of stud which appeared in
the July issue of the "Standard Car Review" proved most interesting to me. It was well written and it struck me that the question of the use of snuff is a matter which ought to be brought to the notice of all drivers.
From personal experience extending over many years on the road, I have found that a pinch of snuff will keep one alert and can be a real tonic at the end of a long, tiring day. It thus goes a long way towards the prevention of accidents resulting from wheel-weariness.
I never travel without a small tin in the cubbyhole and many times recourse to this has cleared my head. refreshed my nerves and banished headaches. Personally, I find the mentholated variety the best.
Birmingham. W. J. Cot.r,