Soft-soldering Light Alloys
28th November 1952
Page 37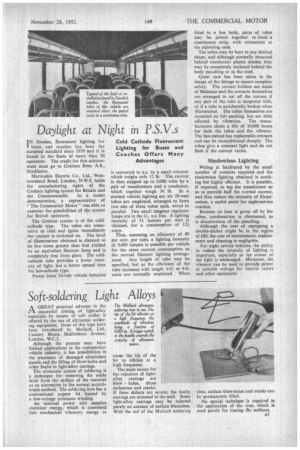 Page 37, 28th November 1952 —
Soft-soldering Light Alloys
Close
AGREAT practical advance in the successful joining of light-alloy materials by means of soft solder is offered by the use of ultrasonic soldering equipment. Irons of this type have been introduced by Mallard, Ltd., Century House, Shaftesbury Avenue, London, W.C.2.
Although the process may have limited applications in the commercialvehicle industry, it has possibilities in the treatment of damaged aluminium panels and the filling of blow-holes and other faults in light-alloy castings.
The ultrasonic system of soldering is a technique for removing the oxide layer from the surface of the material as an alternative to the normal scratchbrush method. The soldering iron has a conventional copper bit heated by a low-voltage resistance winding.
An external power unit supplies electrical energy, which is converted into mechanical vibratory energy to cause the tip of the bit to vibrate at a high frequency.
The main causes for the rejection of lightalloy castings are blow holes, dross inclusions and cracks. If these defects are severe, the faulty castings are returned to the melt. Some light-alloy castings may be rejected purely on account of surface blemishes. With the aid of the Mallard soldering
iron, surface blow-holes and cracks can be permanently filled.
No special technique is required in the application of the iron, which is used purely for tinning tfie surfaces.