State Vehicles to Pay Levy
28th November 1952
Page 35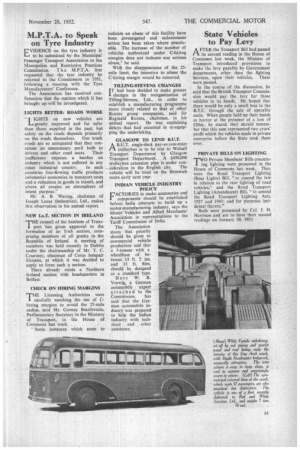 Page 35, 28th November 1952 —
State Vehicles to Pay Levy
Close
AFTER the Transport Bill had passed its second reading in the House of Commsns last week, the Minister of Transport introduced provisions to make the levy payable by Government departments, other than the fighting Services, upon their vehicles. These were passed.
In the course of the discussion, he said that the British Transport Commission would pay the levy for those vehicles in its hands. He hoped that there would be only a small loss to the B.T.C. through the sale of operable units. When people held up their hands in horror at the prospect of a loss of £20m.. he stated, they should remember that this sum represented two years' profit which the vehicles made in private enterprise before the State took them over,
PRIVATE BILLS ON LIGHTING
TWO Private Members' Bills concerning lighting were presented in the House of Commons last week. They were the Road Transport Lighting (Rear Lights) Bill, "to amend the law in relation to the rear lighting of road vehicles," and the Road Transport Lighting (Amendment) Bill, "to amend the Road Transport Lighting Acts, 1927 and 1945; and for purposes incidental thereto,"
Both were presented by Col. J. H. Harrison and are to have their second readings on January 30, 1951