M.P•T•A. to Speak on Tyre Industry
28th November 1952
Page 35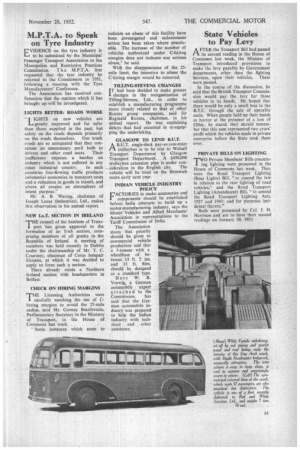 Page 35, 28th November 1952 —
M.P•T•A. to Speak on Tyre Industry
Close
EVIDENCE on the tyre industry is to be submitted by the Municipal Passenger Transport Association to the Monopolies and Restrictive Practices Commission. T h c M.P.T.A. first requested that the tyre industry be referred to the Commission in 1951, following a meeting with the Tyre Manufacturers' Conference.
The Association has received confirmation that the matters which it has brought up will be investigated.
LIGHTS BETTER: ROADS WORSE
"1 IGHTS on new vehicles are la greatly improved and far safer than those supplied in the past, but safety on the roads depends primarily on the roads themselves. Our trunk roads are so antiquated that they constitute an unnecessary peril both to
drivers and other road users. Their inefficiency imposes a burden on industry which is not suffered in any other industrial country. In such countries free-flowing traffic produces substantial economies in transport costs and a reduction in goods in transit, and above all creates an atmosphere of intent purpose."
Mr. A. B. Waring, chairman of Joseph Lucas (Industries), Ltd., makes this observation in his annual report.
NEW Lo.T. SECTION IN IRELAND THE council of the Institute of Trans1 port has given approval to the formation of an Irish section, comprising members of all grades in the Republic of Ireland. A meeting of members was held recently in Dublin under the chairmanship of Mr. I. C. Courtney, chairman of Coras lompair Eireann, at which it was decided to apply to form such a section.
Thete already exists a Northern Ireland section with headquarters in Belfast.
CHECK ON HIRING MARGINS
THE Licensing Authorities were 1 carefully watching the use of Chiring margins to avoid the 25-mile radius, said Mr. Gurney Braithwaite, Parliamentary Secretary to the Ministry of Transport, in the House of Commons last week.
" Some instances which seem to indicate an abuse of this facility have been Investigated and enforcement action has been taken where practicable. The increase of the number of vehicles authorized under C-hiring margins does not indicate any serious abuse," he said.
With the disappearance of the 25mile limit, the incentive to abuse the C-hiring margin would be removed.
TILLING-STEVENS CHANGES I T had been decided to make greater changes in the reorganization of Tilling-Stevens, Ltd., in order to establish a manufacturing programme more closely related to that of other Rootes group companies, said Sir Reginald Rootes, chairman, in his annual report. He was explaining delays that had occurred in re-equipping the undertaking.
GLASGOW TO LEND B.U.T. A B.U.T. single-deck pay-as-you-enter trolleybui is to be lent to Walsall Transport Department by Glasgow Transport Department. A f450,000 trolleybus extension plan is under con
-sideration in the English city. The vehicle will be tried on the Bloxwich route early next year.
INDIAN VEHICLE INDUSTRY POLICY VACTORIES to make accessories and components should be established before India attempts to build up a motor-manufacturing industry, says the Motor Vehicles and Allied Merchants' Association in representations to the Tariff Commission of India.
The Association states that priority should be given to commercial vehicle production and that a 3-tonner with a wheelbase of between 13 ft. 2 ins. and 13 ft. Sins. should be designed as a standard type.
Herr W. R. Vorwig, a German automobile . expert attached to the Commission, has said that the German automobile industry was prepared to help the Indian industry with technical and other assistance.
Tags
Organisations
:
Restrictive Practices Commission
,
Walsall Transport Department
,
Monopolies and Restrictive Practices Commission
,
Tariff Commission of India
,
Allied Merchants' Association
,
Glasgow Transport Department
,
Municipal Passenger Transport Association
,
House of Commons
,
Institute of Trans1
,
Motor Vehicles and Allied Merchants' Association
,
Ministry of Transport