A NEW METHOD OF TESTING CASE - HARDENING.
28th May 1929
Page 53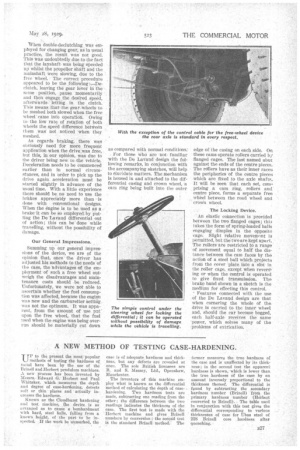 Page 53, 28th May 1929 —
A NEW METHOD OF TESTING CASE - HARDENING.
Close
UP to the present the most'.popular Methods of testing the hardness of metal have been by the use of the Brinell and-Herbert pendulum machines. j. new Process has been invented by Messrs.. Edward G.' Herbert and Paul Whitaker, .which measures the depth Sad degree of case-hardening, detects soft or thin places and actually increases the hardness.
Known, as the Cloudburst hardening and test Machine, he device, is so a pranged as to cause a bombardment with hard, steel balls, falling from a known height, of the part to be inspected. If the work be Unmarked, the case is of adequate hardness and thickness, but any defects are revealed at once. The sole British licensees are B. and S. Massey, Ltd., Openshaw, Manchester.
The inventors of this machine employ what is known as the differential method of calculating the depth of casehardening. Two hardness tests are made, subtracting one reading from the other ; the difference between the two readings indicates the thickness of the case. The first test is made with the ' Herbert machine and gives Brinell numbers by conversion ; the second test is the standard Brinell method. The
farmer measures the true hardness of the case and is unaffected by its thickness; in the second test the apparent hardness is shown, which is lower than the true hardness of the case by an amount inversely proportional to the thickness thereof. The differential is
.. found by subtracting the secondary hardness number (Brindl) 'froth the primary hardness number (Hdrbert converted to Brinell).-. The table used in conjunction with this test gives the differential corresponding to various thicknesses of case for Jibes steel of 228 Brinell core hardness after quenching.