INTERESTING personal details are given of Iwo well-known pioneer officers in army transport. 4.* • Page .528.
28th May 1929
Page 43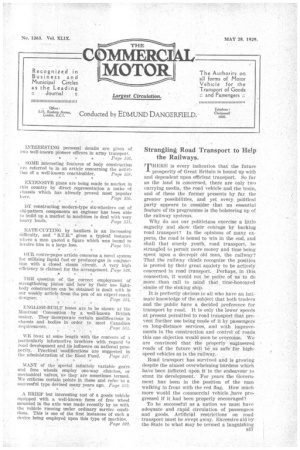 Page 43, 28th May 1929 —
INTERESTING personal details are given of Iwo well-known pioneer officers in army transport. 4.* • Page .528.
Close
SOME interesting features of body construction nre referred to in an article concerning the activi ties of a well-known coachbuilder. Page 538.
EXTENSIVE plans are being made to market in this country by direct representation a make of chassis which has already proved most popular here. Page 536.
BY constructing modern-type six-wheelers out of old-pattern components an engineer has been able to build up a market in machines to deal with very heavy loads. Page 531.
RATE-CUTTING by hauliers is an increasing 6ifficulty, and " S.T.R." gives a typical instance where a man quoted a figure which was bound to involve him in a large loss. Page 532.
OUR centre-pages article concerns a novel system for utilizing liquid, fuel or producer-gas in conjunction with a closed steam 'circuit. A very', high efficiency is claimed for the arrangement. Page 528. HE' sk question of the correct employment of strengthening. hiates and how* by their use lightbody construction can be obtained is dealt with in our Weekly article from the pen of anexPert coach designer. Page 524.
ENGLISH-BUILT buSes are to be shown at the Montreal Convention by a well-known British maker. -They -incorporate certain modifications' in chassis and bodies in order to meet . Canadian requirements. Page 534.
WE treat at some length with the contents of a particularly informative brochure with, to road development and its influence on national prosperity. Practical 'modifications are suggested in the administration of the TOO Fund. Page 527.
MANY of the special infinitely variable gars and free wheels employ one-way clutches, or mechanical valves, 'as they are sometimes termed. We criticise certain points in these and refer to a successful type devised many years ago. Page 5,32.
A BRIEF but interesting test of a goods vehicle equipped with a well-known form of free wheel mounted in the axle WRS made recently by us with the vehicle running under ordinary service conditions. This is one of the first instances of such a device being employed upon this type of machine.