W&H Taylor's licence is revoked
28th March 1996
Page 9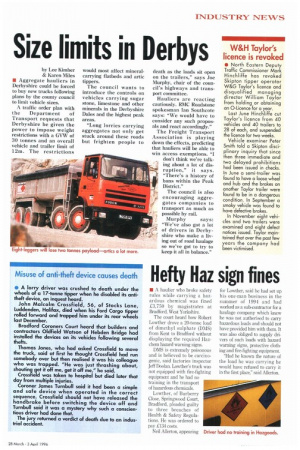 Page 9, 28th March 1996 —
W&H Taylor's licence is revoked
Close
• North Eastern Deputy Traffic Commissioner Mark Hinchliffe has revoked Skipton tipper operator W&G Taylor's licence and disqualified managing director William Taylor from holding or obtaining an 0-Licence for a year. Last June Hinchliffe cut Taylor's licence from 40 vehicles and 40 trailers to 28 of each, and suspended the licence for two weeks.
Vehicle examiner Peter Smith told a Skipton disciplinary inquiry that since then three immediate and two delayed prohibitions had been issued in checks. In June a semi-trailer was found to have a loose wheel and hub and the brakes on another Taylor trailer were found to be in a dangerous condition. In September a smoky vehicle was found to have defective brakes.
In November eight vehicles and two trailers were examined and eight defect notices issued. Taylor maintained that over the past few years the company had been victimised.