Size limits in Derbys
28th March 1996
Page 9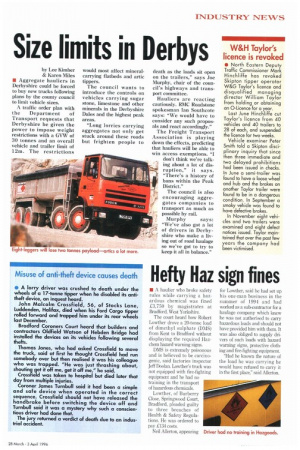 Page 9, 28th March 1996 —
Size limits in Derbys
Close
by Lee 'Umber & Karen Miles • Aggregate hauliers in Derbyshire could be forced to buy new trucks following plans by the county council to limit vehicle sizes.
A traffic order plan with the Department of Transport requests that Derbyshire be given the power to impose weight restrictions with a GVW of 30 tonnes and an overall vehicle and trailer limit of 12m. The restrictions would most affect mineralcarrying flatbeds and artic tippers.
The council wants to introduce the controls on vehicles carrying sugar stone, limestone and other minerals in the Derbyshire Dales and the highest peak areas.
"Long lorries carrying aggregates not only get stuck around these roads but frighten people to death as the loads sit open on the trailers," says Joe Murphy, chair of the council's highways and transport committee.
Hauliers are reacting cautiously. RMC Roadstone spokesman Ian Southcote says: "We would have to consider any such proposals and react accordingly."
The Freight Transport Association is playing down the effects, predicting that hauliers will be able to win access exemptions. "I don't think we're talking about a lot of disruption," it says. "There's a history of bans within the Peak District."
The council is also encouraging aggregates companies to transport as much as possible by rail.
Murphy says: "We've also got a lot of drivers in Derby ' shire who make a living out of road haulage so we've got to try to keep it all in balance."