Row over radioactive oil
28th March 1996
Page 8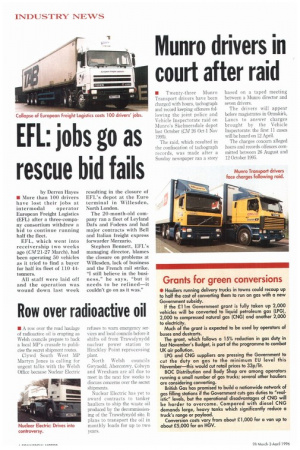 Page 8, 28th March 1996 —
Row over radioactive oil
Close
Keywords :
Counties Of Wales
,
Geography Of The United Kingdom
,
Energy
,
Principal Areas Of Wales
,
Trawsfynydd
,
Gwynedd
,
Nuclear Power
,
Wrexham
,
Aberconwy
,
Environment
,
Politics
• A row over the road haulage of radioactive oil is erupting as Welsh councils prepare to back a local MP's crusade to publicise the secret shipment routes.
Clywd South West MP Martyn Jones is calling for urgent talks with the Welsh Office because Nuclear Electric
refuses to warn emergency services and local councils before it shifts oil from Trawsfynydd nuclear power station to Hinckley Point reprocessing plant.
North Welsh councils Gwynedd, Aberconwy, Colwyn and Wrexham are all due to meet in the next few weeks to discuss concerns over the secret shipments.
Nuclear Electric has yet to award contracts to tanker hauliers to ship the waste oil produced by the decommissioning of the Trawsfynydd site. It plans to transport the oil in monthly loads for up to two years.