Norris sees eye to
28th March 1996
Page 7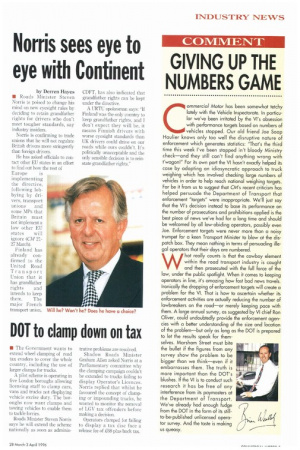 Page 7, 28th March 1996 —
Norris sees eye to
Close
GIVING UP THE
eye with Continent NUMBERS GAME
by Derren Hayes • Roads Minister Steven Norris is poised to change his mind on new eyesight rules by deciding to retain grandfather rights for drivers who don't meet tougher standards, say industry insiders.
Norris is confirming to trade unions that he will not regulate British drivers more stringently than foreign drivers.
He has asked officials to contact other EU states in an effort to find out how the rest of Europe is implementing the directive, following lobbying by drivers, transport unions and some MPs that Britain must not implement a law other EU
states will ignore (CM 2127 March).
Finland has already confirmed to the United Road Transport Union that it has grandfather rights and intends to keep them. The major French transport union, CUFF, has also indicated that grandfather rights can be kept under the directive.
A URTU spokesman says: If Finland was the only country to keep grandfather rights, and I don't expect they will be, it means Finnish drivers with worse eyesight standards than UK drivers could drive on our roads while ours couldn't. It's politically unacceptable and the only sensible decision is to reinstate grandfather rights."