DOT to clamp down on tax
28th March 1996
Page 7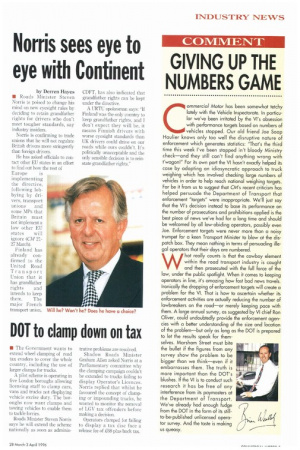 Page 7, 28th March 1996 —
DOT to clamp down on tax
Close
• The Government wants to extend wheel clamping of road tax evaders to cover the whole country, including the use of larger clamps for trucks.
A pilot scheme is operating in five London boroughs allowing licensing staff to clamp cars, vans and trucks not displaying vehicle excise duty. The boroughs now want clamps and towing vehicles to enable them to tackle lorries.
Roads Minister Steven Norris says he will extend the scheme nationally as soon as adminis trative problems are resolved.
Shadow Roads Minister Graham Allen asked Norris at a Parliamentary committee why the clamping campaign couldn't be extended to trucks failing to display Operator's Licences. Norris replied that whilst he favoured the concept of clamping or impounding trucks, he wanted to monitor the removal of LGV tax offenders before making a decision.
Operators clamped for failing to display a tax disc face a release fee of £68 plus back tax.