'The general public does not realise what is involved with driving'
28th March 1996
Page 42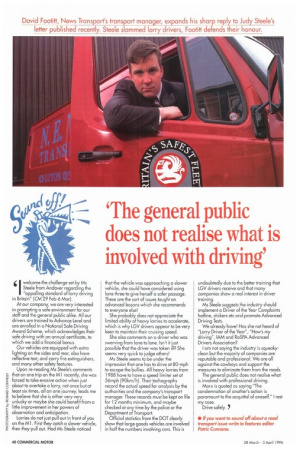 Page 42, 28th March 1996 —
'The general public does not realise what is involved with driving'
Close
6 welcome the challenge set by Ms
I Steele from Andover regarding the "appalling standard of lorry driving in Britain" (CM 29 Feb-6 Mar), At our company, we are very interested in prompting a safe environment for our staff and the general public alike. All our drivers are trained to Advance Level arid are enrolled in a National Safe Driving Award Scheme, which acknowledges their safe driving with an annual certificate, to which we add a financial bonus.
Our vehicles are equipped with extra lighting on the sides and rear, also have reflective text, and carry fire extinguishers, and many other safety features.
Upon re-reading Ms Steele's comments that on one trip on the MI recently, she was forced to take evasive action when just about to overtake a lorry, not once but at least six times, all on one journey, leads me to believe that she is either very very unlucky or maybe she could benefit from a little improvement in her powers of observation and anticipation.
Lorries do not just pull out in front of you on the MI. First they catch a slower vehicle, then they pull out. Had Ms Steele noticed that the vehicle was approaching a slower vehicle, she could have considered using lane three to give herself a safer passage. These are the sort of issues taught on advanced lessons which she recommends to everyone else! She probably does not appreciate the limited ability of heavy lorries to accelerate, which is why LGV drivers appear to be very keen to maintain their cruising speed. She also comments on a driver who was swerving from lane to lane. Isn't it iust possible that the driver was taken ill? She seems very quick to judge others! Ms Steele seems to be under the impression that one has to drive at 80-mph to escape the bullies. All heavy lorries from 1988 have to have a speed limiter set at 56mph (90km/h), Their tachographs record the actual speed for analysis by the authorities and the company's transport manager. These records must be kept on file for 12 months minimum, and maybe checked at any time by the police or the Department of Transport. Official statistics From the DOT clearly show that large goods vehicles are involved in half the numbers involving cars. This is
undoubtedly due to the better training that LGV drivers receive and that many companies show a real. interest in driver tramins teinsg.
ele suggests the industry should implement a Driver of the Year Complaints hotline, stickers etc and promote Advanced Driving Tests. We already have! Has she not heard of "Lorry Driver of the Year", "How's my driving", IAM and Ro,SPA Advanced Drivers Association?
I am not saying the industry is squeakyclean but the majority of companies are reputable and professional. We are all against the cowboys and support the measures to eliminate them from the roads.
The general public does not realise what is involved with professional driving.
Marx is quoted as saying "The condemnation of another's action is paramount to the acquittal of oneself.' I rest my case. Drive safely.