S A T here is something about company vehicles that makes drivers
28th March 1996
Page 40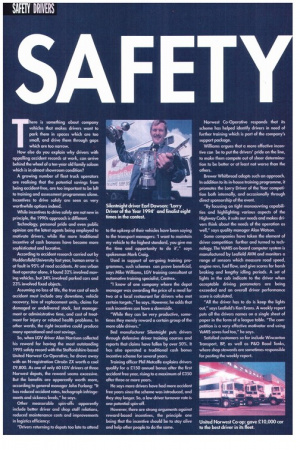 Page 41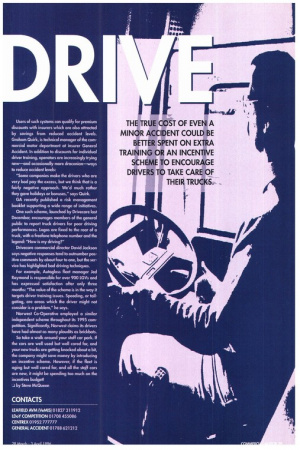 Page 40, 28th March 1996 —
S A T here is something about company vehicles that makes drivers
Close
want to park them in spaces which are too small, and drive them through gaps which are too narrow. How else do you explain why drivers with appalling accident records at work, can arrive behind the wheel of a ten-year old family saloon which is in almost showroom condition?
A growing number of fleet truck operators are realising that the potential savings from being accident-free, are too important to be left to training and assessment programmes alone. Incentives to drive safely are seen as very worthwhile options indeed, While incentives to drive safely are not new in principle, the 19905 approach is different.
Technology, personal pride and even public opinion are the latest agents being employed to motivate drivers, while the more traditional incentive of cash bonuses hove became more sophisticated and lucrative.
According to accident research carried out by Huddersfield University last yew, human error is at fault in 95% of road accidents. At one urban fleet operator alone, it found 32% involved moving vehicles, but 34% involved parked cars and 23% involved fixed objects.
Assuming no loss of life, the true cost of each accident must include any downtime, vehicle recovery, hire of replacement units, claims for damaged or undelivered stock, lost management or administrative time, and cost of treatment for injury or related health problems. In other words, the right incentive could produce many operational and cost savings.
So, when LGV driver Alan Harrison collected his reward for having the most outstanding 1995 safety record with the Staffordshire-based United Norwest Co-Operative, he drove away with on N-registration Citroen ZX worth a cool £9,800. As one of only 60 LGV drivers at three Norwest depots, the reward seems excessive. But the benefits are apparently worth more, according to general manager John Furlong: "It has reduced accident rates, tachograph infringements and sickness levels." he says.
Other measurable spin-offs apparently include better driver and shop staff relations, reduced maintenance costs and improvements in logistics efficiency: "Drivers returning to depots too late to attend to the upkeep of their vehicles have been saying to the transport managers: want to maintain my vehicle to the highest standard, you give me the time and opportunity to do it'," says spokesman Mark Craig.
Used in support of on-going training programmes, such schemes can prove beneficial, says Mike Williams, LGV training consultant at automotive training specialist, Centrex.
"I know of one company where the depot manager was awarding the price of a meal for two at a local restaurant for drivers who met certain targets," he says. However, he adds that cash incentives can have a downside.
"While they can be very productive, sometimes they merely reward a certain group of the more able drivers."
Bed manufacturer Silentnight puts drivers through defensive driver training courses and reports that claims have fallen by over 50%. It has also operated a traditional cash bonus incentive scheme for several years.
Training officer Phil Metcalfe explains drivers qualify for a £150 annual bonus after the first accident free year, rising to a maximum of £350 after three or more years.
He says more drivers have had more accident free years since the scheme was introduced, and they stay longer. So, a low driver turnover rate is one potential spin-off.
However, there are strong arguments against reward-based incentives, the principle one being that the incentive should be to stay alive and help other people to do the same. Norwest Ca-Operative responds that its scheme has helped identify drivers in need of further training which is part of the company's support package.
Williams argues that a more effective incentive can be to put the drivers' pride on the line, to make them compete out of sheer determination to be better or at least not worse than the others.
Brewer Whitbread adopts such an approach. In addition to its in-house training programme, it promotes the Lorry Driver of the Year competition both internally, and occasionally through direct sponsorship of the event.
"By focusing on tight manoeuvring capabilities and highlighting various aspects of the Highway Cede, it suits our needs and makes drivers think about the needs of the operation as well," says quality manager Alan Watson.
Some companies have taken the element of driver competition further and turned to technology. The VeMIS on-board computer system is manufactured by Leafield AVM and monitors a range of sensors which measure road speed, engine revs, fuel flow, and give scores for harsh braking and lengthy idling periods. A set of lights in the cab indicate to the driver when acceptable driving parameters are being exceeded and an overall driver performance score is calculated.
"All the driver has to do is keep the lights out," says Leafield's Ken Evans. A weekly report puts all the drivers names on a single sheet of paper in the form of a league table. "The competition is a very effective motivator and using VeM1S saves fuel too," he says.
Satisfied customers so far include Wincanton Transport, BP, as well as P&O Road Tanks, where shop stewards are sometimes responsible for posting the weekly report. Users of such systems can qualify for premium discounts with insurers which are also attracted by savings from reduced accident levels. Graham Quirk, is technical manager of the commercial motor department at insurer General Accident. In addition to discounts for individual driver training, operators are increasingly trying new—and occasionally more draconian—ways " to reduce accident levels: "Some companies make the drivers who are very bad pay the excess, but we think that is a Fairly negative approach. We'd much rather they gave holidays or bonuses," says Quirk.
GA recently published a risk management booklet supporting a wide range of initiatives.
One such scheme, launched by Drivecare last December, encourages members of the general public to report truck drivers for poor driving performances. Logos are fixed to the rear of a truck, with a freefone telephone number and the legend: "How is my driving?"
Drivetare commercial director David Jackson says negative responses tend to outnumber positive comments by about four to one, but the service has highlighted bad driving techniques.
For example, Autoglass fleet manager Jed Raymond is responsible for over 900 LGVs and has expressed satisfaction after only three months: "The value of the scheme is in the way it targets driver training issues. Speeding, or tailgating, are areas which the driver might not consider is a problem," he says.
Norwest Co-Operative employed a similar independent scheme throughout its 1995 competition. Significantly, Norwest claims its drivers have had almost as many plaudits as brickbats.
So take a walk around your staff car park. If the cars are well used but well cared for, and your new trucks are getting knocked about a bit, the company might save money by introducing an incentive scheme. However, if the fleet is aging but well cared for, and all the staff cars are new, it might be spending too much on the incentives budget!
-I by Steve McQueen
Tags
People
:
Alan Harrison
,
Phil Metcalfe
,
Centrex
,
Graham Quirk
,
Jed Raymond
,
Mark Craig
,
John Furlong
,
David Jackson
,
Alan Watson
,
Steve McQueen
,
Mike Williams
,
Ken Evans