I AND NI AN
28th March 1996
Page 39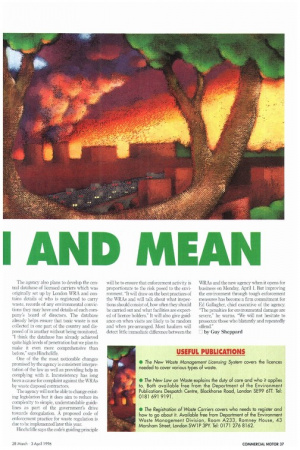 Page 38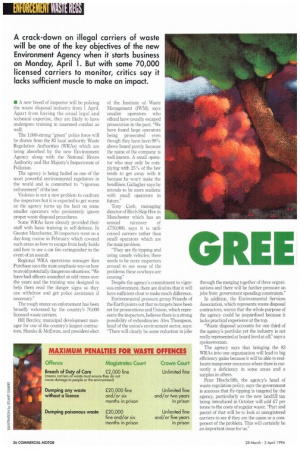 Page 39, 28th March 1996 —
I AND NI AN
Close
• A new breed of inspector will be policing the waste disposal industry from 1 April. Apart from having the usual legal and technical expertise, they are likely to have undergone training in unarmed combat as well.
The 1,000-strong "green" police force will be drawn from the 83 local authority Waste Regulation Authorities (WRAs) which are being absorbed by the new Environment Agency along with the National Rivers Authority and Her Majesty's Inspectorate of Pollution.
The agency is being hailed as one of the most powerful environmental regulators in the world and is committed to "vigorous enforcement" of the law.
Violence is not a new problem to confront the inspectors but it is expected to get worse as the agency turns up the heat on some smaller operators who persistently ignore proper waste disposal procedures.
Some WRAs have already provided their staff with basic training in self-defence. In Greater Manchester, 30 inspectors went on a day-long course in February which covered such areas as how to escape from body holds and how to use a car fire extinguisher in the event of an assault.
Regional \VRA Operations manager Ken Purchase says the main emphasis was on how to avoid potentially dangerous situations. "We have had officers assaulted at odd times over the years and the training was designed to help them read the danger signs so they can withdraw and get police assistance if necessary."
The tough stance on enforcement has been broadly welcomed by the country's 70,000 licensed waste carriers.
Bill Bentley, municipal development manager for one of the country's largest contractors, Shanks & McEwan, and president-elect of the Institute of Waste Management (IWM), says smaller operators who offend have usually escaped prosecution in the past. "We have found large operators being prosecuted even though they have been 99% above board purely because the name of the company is well-known. A small operator who may only be complying with 25% of the law tends to get away with it because he won't make the headlines. Gallagher says he intends to be more realistic with small operators in future."
Tony Cash, managing director of Birch Skip Hire in Manchester which has an annual turnover of £750,000, says it is unlicensed carriers rather than small operators which are the main problem.
"They are fly-tipping and using unsafe vehicles; there needs to be more inspectors around to see some of the problems these cowboys are causing."
Despite the agency's commitment to vigorous enforcement, there are doubts that it will have sufficient clout to make much difference.
Environmental pressure group Friends of the Earth points out that no targets have been set for prosecutions and Unison, which represents the inspectors, believes there is a strong possibility of redundancies. Alex Thompson, head of the union's environment sector, says: "There will clearly be some reduction in jobs through the merging together of three organisations and there will be further pressure on jobs from government spending constraints."
In addition, the Environmental Services Association, which represents waste disposal contractors, warns that the whole purpose of the agency could be jeopardised because it lacks practical experience at the top.
"Waste disposal accounts for one third of the agency's portfolio yet the industry is not really represented at board level at all," says a spokeswoman.
The agency says that bringing the 83 WRAs into one organisation will lead to big efficiency gains because it will be able to reallocate manpower resources where there is currently a deficiency in some areas and a surplus in others.
Peter Hinchcliffe, the agency's head of waste regulation policy, says the government is anxious that fly-tipping is targeted by the agency, particularly as the new landfill tax being introduced in October will add £7 per tonne to the costs of regular waste, "Part and parcel of that will be to look at unregistered carriers to see if they are the cause or a component of the problem. This will certainly be an important issue for us." The agency also plans to develop the central database of licensed carriers which was originally set up by London WRA and contains details of who is registered to carry waste, records of any environmental convictions they may have and details of each company's board of directors. The database already helps ensure that toxic waste is not collected in one part of the country and disposed of in another without being monitored. "I think the database has already achieved quite high levels of penetration but we plan to make it even more comprehensive than before," says Hinchcliffe.
One of the the most noticeable changes promised by the agency is consistent interpretation of the law as well as providing help in complying with it. Inconsistency has long been a cause for complaint against the WRAs by waste disposal contractors.
The agency will not be able to change existing legislation but it does aim to reduce its complexity to simple, understandable guidelines as part of the government's drive towards deregulation. A proposed code of enforcement practice for waste regulation is due to be implemented later this year.
Hi nchcliffe says the code's guiding principle will be to ensure that enforcement activity is proportionate to the risk posed to the environment. "It will draw on the best practices of the WRAs and will talk about what inspections should consist of, how often they should be carried out and what facilities are expected of licence holders." It will also give guidance on when visits arc likely to be random and when pre-arranged. Most hauliers will detect little immediate difference between the WRAs and the new agency when it opens for business on Monday, April 1. But improving the environment through tough enforcement measures has become a firm commitment for Ed Gallagher, chief executive of the agency The penalties for environmental damage are severe," he warns. "We will not hesitate to prosecute those who blatantly and repeatedly offend."
-iby Guy Sheppard