C001.
28th March 1996
Page 34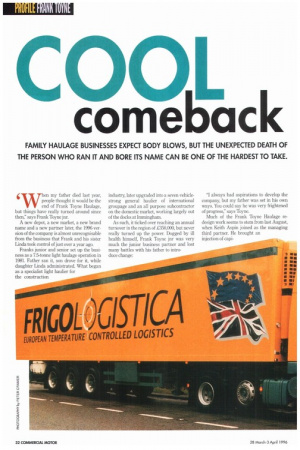 Page 35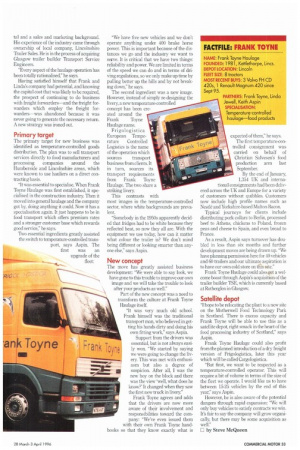 Page 34, 28th March 1996 —
C001.
Close
comeback
FAMILY HAULAGE BUSINESSES EXPECT BODY BLOWS, BUT THE UNEXPECTED DEATH OF THE PERSON WHO RAN IT AND BORE ITS NAME CAN BE ONE OF THE HARDEST TO TAKE.
6 hen my father died last year,
people thought it would be the end of Frank Toyne Haulage, but things have really turned around since then," says Frank Toyne jnr.
A new depot, a new market, a new brand name and a new partner later, the 1996-version of the company is almost unrecognisable from the business that Frank and his sister Linda took control of just over a year ago.
Franks junior and senior set up the business as a 7.5-tonne light haulage operation in 1981. Father ran it, son drove for it, while daughter Linda administrated. What began as a specialist light haulier for the construction industry, later upgraded into a seven-vehiclestrong general haulier of international groupage and an all purpose subcontractor on the domestic market, working largely out of the docks at Immingham.
As such, it ticked over reaching an annual turnover in the region of £350,000, but never really turned up the power. Dogged by ill health himself, Frank Toyne jnr was very much the junior business partner and lost many battles with his father to introduce change: 1 always had aspirations to develop the company, but my father was set in his own ways. You could say he was very frightened of progress," says Toyne.
Much of the Frank Toyne Haulage redesign work seems to stem from last August, when Keith Aspin joined as the managing third partner. He brought an injection of capi tal and a sales and marketing background. His experience of the industry came through ownership of local company, Lincolnshire Trailer Sales. He is in the process of acquiring Glasgow trailer builder Transport Service Engineers.
"Every aspect of the haulage operation has been totally rationalised," he says.
Having satisfied himself that Frank and Linda's company had potential, and knowing the capital cost that was likely to be required, the prospect of continuing to do business with freight forwarders—and the freight forwarders which employ the freight forwarders—was abandoned because it was never going to generate the necessary return. A new strategy was ironed out.
Primary target
The primary target for new business was identified as temperature-controlled goods distribution. The plan was to sell transport services directly to food manufacturers and processing companies around the Humberside and Lincolnshire areas, which were known to use hauliers on a direct contracting basis.
"It was essential to specialise. When Frank Toyne Haulage was first established, it specialised in the construction industry. Then it moved into general haulage and the company got by, doing anything it could. Now it has a specialisation again. It just happens to he in food transport which offers premium rates and a stronger customer base which rewards good service," he says.
Two essential ingredients greatly assisted the switch to temperature-controlled transport, says Aspin. The first was an upgrade of the fleet: "We have five new vehicles and we don't operate anything under 400 brake horse power. This is important because of the distances we go and the industry we want to serve. It is critical that we have two things: reliability and power. We are limited in terms of the speed we can do and in terms of driving regulations, so we only make up time by pulling better up the hills and by not breaking down," he says.
The second ingredient was a new image. However, instead of simply re-designing the livery, a new temperature-controlled concept has been created around the Frank Toyne Haulage name.
Frigologistica European Temperature Controlled Logistics is the name of the operation which sources transport business from clients. It in turn, sources its transport requirements from Frank Toyne Haulage. The two share a striking livery This contrasts with most images in the temperature-controlled sector, where white backgrounds are prevalent.
"Somebody in the 1950s apparently decided that fridges had to be white because they reflected heat, so now they all are. With the equipment we use today, how can it matter what colour the trailer is? We don't mind being different or looking smarter than anyone else," says Aspin.
New concept
The move has greatly assisted business development: "We were able to say look, we have gone to this trouble to improve our own image and we will take the trouble to look after your products as well."
Part of the new concept was a need to transform the culture at Frank Toyne Haulage itself.
"It was very much old school. Frank himself was the traditional transport man, who believed in getting his hands dirty and doing his own fitting work," says Aspin. Support from the drivers was essential, but is not always easily won. "We started by saying we were going to change the livery. This was met with enthusiasm but also a degree of • suspicion. After all, I was the new boy on the block and there was the view 'well, what does he know? It changed when they saw the first new truck in livery."
Frank Toyne agrees and adds that the drivers are now more aware of their involvement and responsibilities toward the company: "We've even issued them with their own Frank Toyne hand books so that they know exactly what is expected of them," he says. The first temperature-controlled consignment was carried on behalf of Christian Salvesen's food production arm last September.
By the end of January, 1,354 UK and interimtional consignments had been deliv ered across the UK and Europe for a variety of customers without quibbles. Customers now include high profile names such as Nestle and Yorkshire-based Melton Bacon.
Typical journeys for clients include distributing pork collars to Berlin, processed beef to Athens, chickens to Poland, frozen peas and cheese to Spain, and even bread to France.
As a result, Aspin says turnover has dou bled in less than six months and further development moves are being drawn up. "We have planning permission here for 40 vehicles and 60 trailers and our ultimate aspiration is to have our own cold store on this site."
Frank Toyne Haulage could also.get a welcome boost through Aspin's acquisition of the trailer builder TSE, which is currently based at Rotherglen in Glasgow.
Satellite depot
"I hope to be relocating the plant to a new site on the Motherwell Food Technology Park in Scotland. There is excess capacity and Frank Toyne will be able to use this as a satellite depot, right smack in the heart of the food processing industry of Scotland," says Aspin.
Frank Toyne Haulage could also profit from the planned introduction of a dry freight version of Frigologistica, later this year which will be called airgologistica.
"But first, we want to be respected as a temperature-controlled operator. This will require a bit of volume in terms of the size of the fleet we operate. I would like us to have between 15-25 vehicles by the end of this year," says Aspin.
However, he is also aware of the potential dangers through rapid expansion: "We will only buy vehicles to satisfy contracts we win. It's fair to say the company will grow organically, but there may be some acquisition as well."
I: by Steve McQueen