M ention the word leasing to the average independent used truck
28th March 1996
Page 33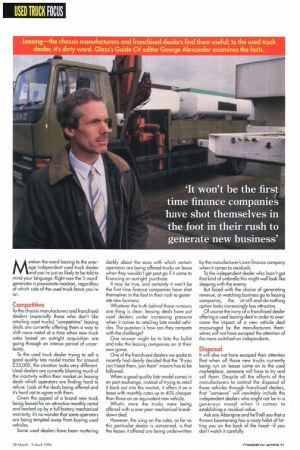 Page 33, 28th March 1996 —
M ention the word leasing to the average independent used truck
Close
dealer and you're just as likely to be told to mind your language. Right now the 'L-word' generates a passionate reaction, regardless of which side of the used truck Fence you're on.
Competitive
To the chassis manufacturers and franchised dealers (especially those who don't like retailing used trucks) "competitive" leasing deals are currently offering them a way to shift more metal at a time when new truck sales based on outright acquisition are going through an intense period of uncertainty.
To the used truck dealer trying to sell a good quality late model tractor for around 235,000, the situation looks very different. Used dealers are currently blaming much of the inactivity within their market on leasing deals which operators are finding hard to refuse. Look at the deals being offered and it's hard not to agree with them.
Given the appeal of a brand new truck being leased For an attractive monthly rental and backed up by a full factory mechanical warranty, it's no wonder that some operators are being tempted away From buying used vehicles.
Some used dealers have been muttering darkly about the ease with which certain operators are being offered trucks on lease when they wouldn't get past go if it came to financing an outright jpurchase. It may be true, and certainly it won't be the first time finance companies have shot themselves in the foot in their rush to generate new business.
Whatever the truth behind those rumours one thing is clear: leasing deals have put used dealers under increasing pressure when it comes to retailing late model vehicles. The question is how can they compete with the challenge? One answer might be to bite the bullet and take the leasing companies on at their own game. One of the franchised dealers we spoke to recently had clearly decided that the "If you can't beat them, join them" maxim has to be followed.
When a good quality late model comes in on part exchange, instead of trying to retail it back out into the market, it offers it on a lease with monthly rates up to ACM cheaper than those on an equivalent new vehicle. What's more the trucks were being offered with a one-year mechanical breakdown deal.
However, the icing on the cake, as far as this particular dealer is concerned, is that the leases it offered are being underwritten by the manufacturer's own finance company when it comes to residuals.
To the independent dealer who hasn't got that kind of umbrella this might well look like sleeping with the enemy. But faced with the choice of generating revenue, or watching business go to leasing companies, the sit-still-and-do-nothing option looks increasingly less attractive. Of course the irony of a franchised dealer offering a used leasing deal in order to overcome the impact of a new vehicle deal encouraged by the manufacturers themselves will not have escaped the attention of the more switched-on independents.
Disposal
It will also not have escaped their attention that when all those new trucks currently being run on leases come on to the used marketplace, someone will have to try and sell them. Despite all the efforts of the manufacturers to control the disposal of those vehicles through franchised dealers, that "someone" will inevitably include the independent dealers who might not be in a generous mood when it comes to establishing a residual value. Ask any Aborigine and he'll tell you that a thrown boomerang has a nasty habit of hitting you on the back of the head—if you don't watch it carefully.