Waste of money
28th March 1996
Page 23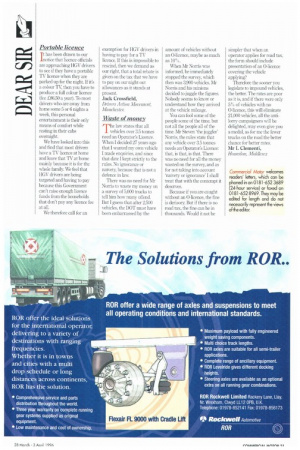 Page 23, 28th March 1996 —
Waste of money
Close
rrhe law states that all 1 vehicles over 3.5 tonnes need an Operator's Licence. When I decided 27 years ago that I wanted my own vehicle I made enquiries, and since that date I kept strictly to the rules. No ignorance or naivety, because that is not a defence in law.
There was no need for Mr Norris to waste my money on a survey of 5,000 trucks to tell him how many offend. But I guess that after 2,500 vehicles, the DOT must have been embarrassed by the amount of vehicles without an 0-licence, maybe as much as 10%.
When Mr Norris was informed, he immediately stopped the survey, which then was 3,900 vehicles Mr Norris and his minions decided to juggle the figures Nobody seems to know or understand how they arrived at the vehicle mileage.
You can fool some of the people some of the time, but not all the people all of the time. Mr Steven 'the juggler' Norris, the rules state that any vehicle over 3.5 tonnes needs an Operator's Licence: that, is that, is that. There was no need for all the money wasted on the survey, and as for not taking into account 'naivety or ignorance' I shall treat that with the contempt it deserves Because if you are caught without an 0-licence, the fine is derisory. But if there is no road tax, the fine can be in thousands. Would it not be simpler that when an operator applies for road tax, the form should include presentation of an 0-licence covering the vehicle applying?
Therefore the sooner you legislate to impound vehicles, the better. The rates are poor as it is, and if there were only 5% of vehicles with no 0-licence, this will eliminate 21,000 vehicles, all the antilorry campaigners will be delighted, may even give you a medal, as for me the fewer trucks on the road the better chance for better rates.
Mr L Clementi, Hounslow, Middlesex Commercioi Motor welcomes readers' letters, which can be phoned in on 0181-652 3689 (24-hour service) or faxed on 0181-652 8969. They may be edited for length and do not necessarily represent the views of the editor.