Portable licence
28th March 1996
Page 23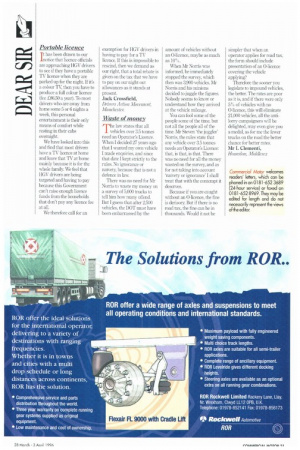 Page 23, 28th March 1996 —
Portable licence
Close
Tt has been drawn to our lnotice that licence officials are approaching HGV drivers to see if they have a portable TV licence when they are parked up for the night. If it's a colour TV, then you have to produce a full colour licence (fee £86.50 a year). To most drivers who are away from home some 5 or 6 nights a week, this personal entertainment is their only means of comfort while resting in their cabs overnight.
We have looked into this and find that most drivers have a TV licence at home and leave that TV at home mainly because it is for the whole family. We feel that HMI drivers are being targeted and having to pay because this Government can't raise enough licence funds from the households that don't pay any licence fee at all.
We therefore call for an exemption for HGV drivers in having to pay for a TV licence. If this is impossible to rescind, then we demand as our right, that a total rebate is given on the tax that we have to pay on our night-out allowances as it stands at present.
Jack Crossfield, Drivers Action fllovement, Munchesler