Fuel savings from heat
28th March 1996
Page 18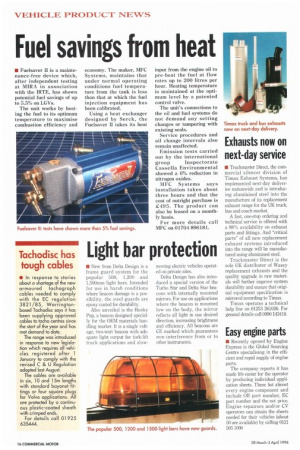 Page 18, 28th March 1996 —
Fuel savings from heat
Close
• Fuelsaver II is a maintenance-free device which, after independent testing at MIRA in association with the IRTE, has shown potential fuel savings of up to 5.5% on LGVs.
The unit works by heating the fuel to its optimum temperature to maximise combustion efficiency and economy. The maker, MFC Systems, maintains that under normal operating conditions fuel temperature from the tank is less than that at which the fuel injection equipment has been calibrated.
Using a heat exchanger designed by Serck, the Fuelsaver II takes its heat input from the engine oil to pre-heat the fuel at flow rates up to 200 litres per hour. Heating temperature is maintained at the optimum level by a patented control valve.
The unit's connections to the oil and fuel systems do not demand any setting changes or tampering with existing seals.
Service procedures and oil change intervals also remain unaffected.
Emission tests carried out by the international group Inspectorate Cassella Environmental showed a 6% reduction in nitrogen oxides.
MFC Systems says installation takes about three hours and that the cost of outright purchase is £495. The product can also be leased on a monthly basis.
For more details call MFC on 01704 896181.