Failure to take breaks costs 19 drivers dear
28th March 1996
Page 17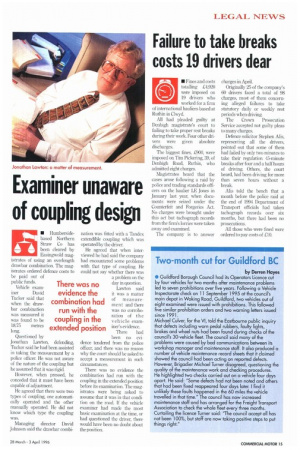 Page 17, 28th March 1996 —
Failure to take breaks costs 19 drivers dear
Close
• Fines and costs totalling £4,920 were imposed on 19 drivers who worked for a firm of international hauliers based at Ruthin in Clwyd.
All had pleaded guilty at Denbigh magistrate's court to failing to take proper rest breaks during their work. Four other drivers were given absolute discharges.
The biggest fines, £900, were imposed on Tim Pickering, 39, of Denbigh Road, Ruthin, who admitted eight charges.
Magistrates heard that the cases arose following a raid by police and trading standards officers on the haulier LE Jones in January last year, when documents were seized under the Counterfeit and Forgeries Act. No charges were brought under this act but tachograph records from the firm's lorries were taken away and examined.
The company is to answer charges in April.
Originally 25 of the company's 60 drivers faced a total of 98 charges, most of them concerning alleged failures to take statutory daily or weekly rest periods when driving.
The Crown Prosecution Service accepted not guilty pleas to many charges.
Defence solicitor Stephen Alis, representing all the drivers, pointed out that some of them had failed by only two minutes to take their regulation 45-minute breaks after four and a half hours of driving. Others, the court heard, had been driving for more than seven hours without a break
Alis told the bench that a month before the police raid at the end of 1994 Department of Transport officials had taken tachograph records over six months, but there had been no prosecutions.
All those who were fined were ordered to pay costs of £10.